Statuette History
1970 to 1974
The very first RPM Gold Leaf Award was designed by JUNO Awards co-founder, record producer and RPM Music Weekly Special Projects Director, Stan Klees. The 18-inch award was made out of walnut wood and designed to resemble a metronome.
1975 to 1983
The JUNO Awards were televised for the first time in 1975. With the move to television, Klees designed a taller (23-inch) acrylic version of the RPM Gold Leaf Award. The Awards were renamed the JUNO Awards in honour of Pierre Juneau, the CRTC's first Chairman.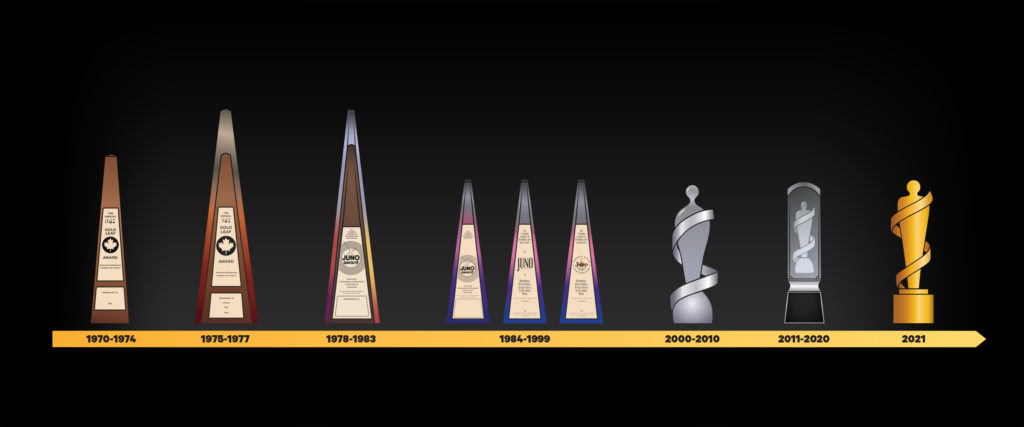 1984-1999
Small design changes were made to The JUNO Award statuette during this time period, but it retained its iconic metronome shape. The maple leaf inlay had changed to a record and JUNO inlay; the height of the Award was adjusted to make it easier to handle; and in 1996, a 25th Anniversary inlay was designed to honour the JUNO Awards' 25th milestone.
2000-2010
As the Canadian music industry approached a new millennium, CARAS adopted a completely new award. Individually crafted by Shirley Elford, the human statuette was made of molten glass and wrapped in an upward spiralling musical staff. This beautifully symbolized the creativity and inspiration surrounding every artist.
2011
To honour its colourful history and musical legacy, The Canadian Academy of Recording Arts and Sciences (CARAS) presented the new 2011 JUNO Award. The previous human statuette design is now represented within a solid volume crystal tower. This innovative technique pays tribute to Shirley Elford's creative contributions over the past 11 years while symbolizing the evolution and future of Canada's Music Awards.
2021
To celebrate the JUNO Awards 50th anniversary in 2021 three new statuettes have been created, honouring the late Shirley Elford's individually crafted design. A gold version will be awarded to JUNO Award winners, a silver version for Special Award recipients and a gold and silver version for Canadian Music Hall of Fame inductees.