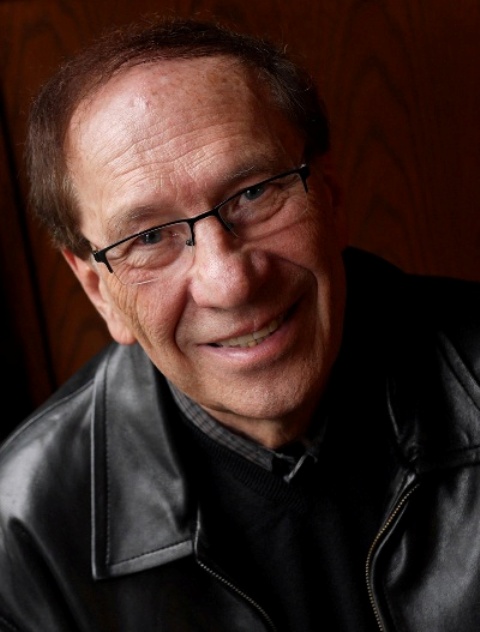 Duff Roman
Biography
Lauded as a pioneer and trailblazer in the industry, Duff Roman's contributions to Canadian music span over 60 years. His entrepreneurial spirit has been instrumental in the development of Canadian radio, punctuated by notable accolades along the way. From his early days as a radio announcer, time with Roman Records, and long-standing career with CHUM-FM to his executive industry roles and co-founding of FACTOR, Roman has been a key figure in the development of countless Canadian artists.
Hailing from the Canadian prairies, Roman kicked off his career in the radio broadcasting world working as an on-air personality at radio stations in Winnipeg, Edmonton and his hometown of Swift Current, Saskatchewan. After moving to Toronto in 1959, Roman found his home with CHUM Limited, working his way up for the next six decades. After beginning as an announcer in the 1960s, Roman steadily rose through the ranks as Program Director at CHUM-FM. He then became Station Manager where he directed the repositioning of CHUM-FM as Canada's foremost Adult Rock radio station. In 1988, Roman was appointed Vice President Industry Affairs of CHUM Limited, assuming additional responsibilities of Vice President, Digital Radio Operations in 1999. Roman retired as the Head of CHUM Radio Network, a position he held since 2007.
After founding Roman Records with his late brother, Dan, in the early 1960s, Roman paved the way as a pioneer record-label owner and artist manager. He notably produced Little Caesar and The Consuls, as well as the first recordings of Levon and the Hawks, who notably went on to become The Band backing Bob Dylan, Roman also helped launch the careers of The Paupers and Canadian Music Hall of Fame inductee David Clayton-Thomas, amongst many others.
Using his wealth of experience and industry savvy, Roman has been a guiding force in programs invested in the longevity and future of Canadian music. In 1982, Roman led the creation of FACTOR, the Foundation to Assist Canadian Talent on Recordings, and continues to serve as its Director Emeritus. FACTOR supports the production of sound recordings by Canadian musicians and helps Canadian music companies make recordings available to a wider public.
Since forming Duff Roman Media Inc. in 2009, Roman has been involved in SmartGrid electrical demand-response technology development as well as TV documentary production, including the award-winning mini-series, Yonge Street: Toronto Rock and Roll Stories, for CTV's BRAVO channel. He is currently Vice President of Corporate Development with the 19-station Evanov Radio Group.
Roman's years of experience in radio have made him an expert in an evolving industry that transitioned from traditional radio broadcasting to digital multimedia broadcasting. In 2001, Roman was inducted to the Canadian Association of Broadcasters (CAB) Broadcast Hall of Fame and in 2006, was one of the first broadcasters inducted into the Canadian Music Industry Hall of Fame. He has been Chair of CAB, President of Digital Radio Roll-Out Inc (DDRI) and was Canada's representative on the WorldDMB (Digital Multimedia Broadcasting) Steering Committee.
Throughout his career, Roman has received numerous prestigious awards and accolades. In 1986, Roman received the Major Market Radio Executive of the Year Award at the Annual Industry Conference sponsored by The Record. He was named Broadcaster of the Year in March 1996 by the Ontario Association of Broadcasters (OAB). In 2010, Roman received the OAB Lifetime Achievement Award, and in 2017, the 11th Annual Music Managers Forum Brian Chater Pioneer Manager Award.
Walt Grealis Special Achievement Award
This prestigious award ­ named after Walt Grealis in recognition of his extraordinary accomplishments, recognizes individuals who have contributed to the growth and development of the Canadian music industry.
Big or small, Walt was a champion of Canadian artists. He was instrumental in cultivating Canada's music industry as we know it today.
"Walt Grealis dedicated his life to creating the Canadian music explosion…the sound heard 'round the world," said long-time friend and business partner Stan Klees. "His goal was to open the door for all artists and build a star system in Canada."
Affectionately known as 'Canada's Music Man', Grealis was a leading figure in the Canadian recording industry. In the early 1960's when American acts dominated the Canadian radio waves and Canadian talent was turning to the South, Walter recognized the need to promote Canada's own 'star system'. In 1964, Grealis pioneered Canada's first national recording industry trade publication, RPM Magazine. Grealis used the magazine as a vehicle to promote Canadian acts to radio stations and the record business. RPM Magazine also charted a new course for developing the Canadian music industry by connecting key industry figures across the country.
Walter Grealis was also a key figure in establishing today's JUNO Awards. In 1964, he and business partner Stan Klees created RPM Magazine's Gold Leaf Awards, which started out as simply a readers' poll of favourite artists. By the mid-1970s the awards evolved into a broadcast ceremony that took Canadian talent to the national stage. In 1970, Gold Leaf was substituted for the nickname 'JUNO' after the then CRTC chairman Pierre Juneau. In 1993 Grealis was made an Officer in the Order of Canada, the second highest honour that can be bestowed on a Canadian.
In November of 2000, Walt Grealis closed the doors of RPM Magazine after 37 years of weekly publication, including over 7000 charts and countless stories on the music industry in Canada. Walt Grealis passed away peacefully in 2004. He said near the end, "I lived a good life. What I did for a living, most people would like to do for fun."
Recipients