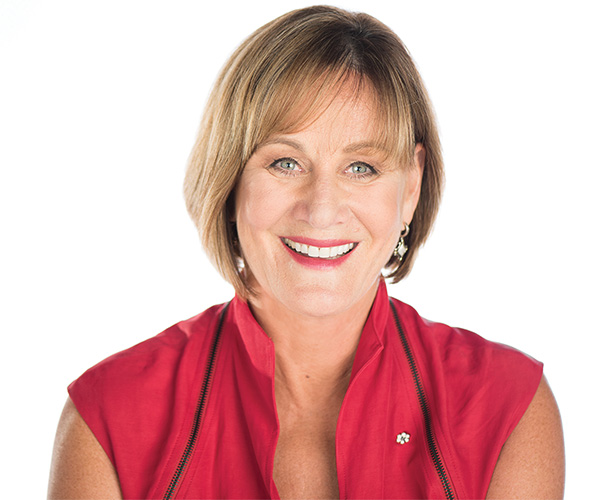 Denise Donlon
Biography
With a career spanning close to 40 years, Donlon has been an integral part of Canada's music scene. Recognized for rising through the ranks at Much Music, Donlon transformed the cultural landscape as host, producer, Director of Programming and later Vice President and General Manager. She went on further to become the first female president of Sony Music Canada, where she worked alongside many of the country's music elite, including Céline Dion, Leonard Cohen, Chantal Kreviazuk and Our Lady Peace. Her passion for Canadian cultural expression was further realized as Executive Director then General Manager of CBC/Radio-Canada English Radio.
Her journey throughout her various careers with artists such as Joni Mitchell, Neil Young, The Tragically Hip and more are chronicled in her memoir 'Fearless As Possible (Under the Circumstances)'. Donlon's continued commitment to Canadian Broadcasting has earned her countless accolades over the years including two Gemini Awards, Canadian Women in Communications' Woman of the Year Award and an induction into the Canadian Broadcast Hall of Fame. Additionally Donlon is a Fellow of the Royal Conservatory of Music, a Fellow of the Canadian Geographical Society, and a Member of the Order of Canada.
Donlon began her career in the Canadian music scene in 1985 as a host and producer of Much Music's The NewMusic. In a few short years she rose to the executive level, appointed MuchMusic/CityTV Director of Music Programming in 1992 and Vice President and General Manager in 1997, where she integrated social justice issues into programming from Much Comes Out to the Gemini Award winning Election coverage. In 1998 she played a key role in the launch of MuchMoreMusic. In 2000, Donlon accepted the role of President of Sony Music Canada, overseeing promotion, marketing, production, manufacturing and distribution.
Highly regarded as an industry leader, Donlon eventually left Sony Music Canada and took on the role of executive director of CBC Radio's English-language services, a position she held from 2008 to 2011. In 2013 she returned to on-camera, co-producing The Zoomer with co-host Conrad Black. Her impressive and storied career led her to document her journey in her memoir, Fearless as Possible (Under the Circumstances).
Donlon's inspiring journey is complemented by her devotion to humanitarian efforts. She has lent her time to several charitable initiatives over the years, working with organizations such as War Child Canada, MusiCounts, Waterkeepers, Live 8 and the Clinton Giustra Enterprise Partnership. Similarly, she contributed to the Clinton Global Initiative as the event producer, an initiative that raised over $21 million in one night.
Her professional and humanitarian achievements have been widely recognized, earning her significant accolades across the industry. In 1997 she received the Outstanding Achievement Award from Women in Film and Television Toronto, earned the Humanitarian Spirit Award at Canadian Music Week and was named Canadian Music Week's Broadcast Executive of the Year three consecutive times, from 1993 to 1995.
In 2009 Donlon was named one of Canada's Top 100 Powerful Women and that same year she won The Rosalie Award at Canadian Music Week. Donlon's achievements as a female executive in a male-dominated field have also earned her top accolades within the world of business and literature. She won the Peter Gzowski Literacy Award of Merit in 2001, has two honourary Doctorates, and has been named Woman of Vision from Wired Women.
Walt Grealis Special Achievement Award
This prestigious award ­ named after Walt Grealis in recognition of his extraordinary accomplishments, recognizes individuals who have contributed to the growth and development of the Canadian music industry.
Big or small, Walt was a champion of Canadian artists. He was instrumental in cultivating Canada's music industry as we know it today.
"Walt Grealis dedicated his life to creating the Canadian music explosion…the sound heard 'round the world," said long-time friend and business partner Stan Klees. "His goal was to open the door for all artists and build a star system in Canada."
Affectionately known as 'Canada's Music Man', Grealis was a leading figure in the Canadian recording industry. In the early 1960's when American acts dominated the Canadian radio waves and Canadian talent was turning to the South, Walter recognized the need to promote Canada's own 'star system'. In 1964, Grealis pioneered Canada's first national recording industry trade publication, RPM Magazine. Grealis used the magazine as a vehicle to promote Canadian acts to radio stations and the record business. RPM Magazine also charted a new course for developing the Canadian music industry by connecting key industry figures across the country.
Walter Grealis was also a key figure in establishing today's JUNO Awards. In 1964, he and business partner Stan Klees created RPM Magazine's Gold Leaf Awards, which started out as simply a readers' poll of favourite artists. By the mid-1970s the awards evolved into a broadcast ceremony that took Canadian talent to the national stage. In 1970, Gold Leaf was substituted for the nickname 'JUNO' after the then CRTC chairman Pierre Juneau. In 1993 Grealis was made an Officer in the Order of Canada, the second highest honour that can be bestowed on a Canadian.
In November of 2000, Walt Grealis closed the doors of RPM Magazine after 37 years of weekly publication, including over 7000 charts and countless stories on the music industry in Canada. Walt Grealis passed away peacefully in 2004. He said near the end, "I lived a good life. What I did for a living, most people would like to do for fun."
Recipients