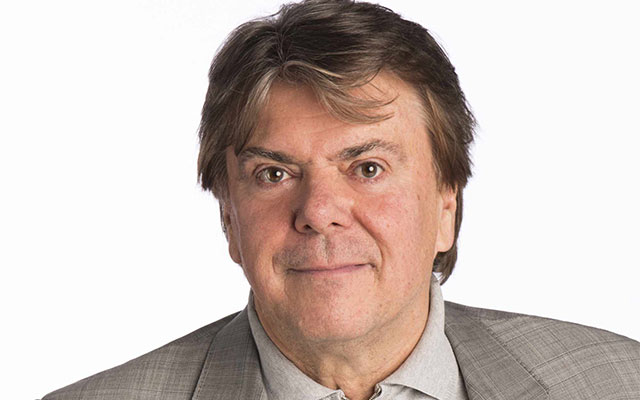 Randy Lennox
Biography
Music industry veteran executive Randy Lennox will be awarded the 2017 Walt Grealis Special Achievement Award for his longstanding commitment to Canadian Music.
The Walt Grealis Special Achievement Award recognizes industry leaders who have vastly contributed to the growth and development of the Canadian music industry. Named after famed Canadian publisher and trailblazer Walt Grealis, this year's award will be presented to Lennox at the 46th Annual JUNO Gala Dinner & Awards presented by SOCAN on Saturday, April 1, 2017 at the Shaw Centre in Ottawa, Ontario.
With a career spanning more than 30 years, Lennox has been a driving force in Canada's music scene. As President and CEO of Universal Music Canada, he helped to sign or elevate the careers of some the country's biggest recording artists including Hedley, Shawn Mendes, Drake, Justin Bieber, Shania Twain, The Tragically Hip, and The Weeknd, among many others. Lennox continues his commitment to Canadian artists in his current role as President of Content and Broadcasting at Bell Media.
Lennox began his music career at Universal Music Canada, working in various positions until becoming President in 1998 when the company merged with Polygram Canada, and then became CEO in 2001. With Lennox at the helm, Universal Music Canada was named Canadian Music Week's Music Company of the Year for 15 consecutive years.
In 2015, Lennox took on the role of President of Broadcasting and Content for Canada's most successful content creation company, Bell Media. There, he leads Bell Media's CTV and English-language specialty channels and oversees all of the company's independent and in-house productions in English Canada. Lennox is also responsible for the recent launch of Bell Media's live theatre division, and extends his music industry commitment via his introduction of the iHeartRadio brand, including live music events.
Complementing his longstanding commitment to music, Lennox is a key contributor to the production of THE JUNO AWARDS and the IHEARTRADIO MUCH MUSIC VIDEO AWARDS, and acts as an executive producer for Canada's Walk of Fame. Lennox is also on the board of directors of CARAS and Canada's Walk of Fame, and sits on the board of governors for Massey Hall, Roy Thomson Hall and the culture advisory board for Ontario.
Lennox has been recognized by Macleans and Toronto Life for his talent and production experience as one of the Top 50 most influential people in Canada and Toronto, respectively. In 2010, after being awarded the Music Industry Executive of the Year seven times, he was inducted into the Canadian Music and Broadcast Industry Hall of Fame. In 2014, Lennox was announced as International Label Executive of the Year by the Worldwide Radio Summit.
Lennox has also initiated and raised millions of dollars for the music industry and related charities. He co-produced "Wavin' Flag," a single which raised over two million dollars for disaster relief efforts in Haiti and won the 2011 JUNO Award for Single of the Year. His ongoing artist involvement also saw Lennox credited as executive producer of CTV's Olympic Winter Games anthem "I Believe." Lennox also acts as founding director for the Smilezone Foundation, a Canadian charity that aims to improve the lives of children facing illness, disabilities and physical and emotional obstacles.
Walt Grealis Special Achievement Award
This prestigious award ­ named after Walt Grealis in recognition of his extraordinary accomplishments, recognizes individuals who have contributed to the growth and development of the Canadian music industry.
Big or small, Walt was a champion of Canadian artists. He was instrumental in cultivating Canada's music industry as we know it today.
"Walt Grealis dedicated his life to creating the Canadian music explosion…the sound heard 'round the world," said long-time friend and business partner Stan Klees. "His goal was to open the door for all artists and build a star system in Canada."
Affectionately known as 'Canada's Music Man', Grealis was a leading figure in the Canadian recording industry. In the early 1960's when American acts dominated the Canadian radio waves and Canadian talent was turning to the South, Walter recognized the need to promote Canada's own 'star system'. In 1964, Grealis pioneered Canada's first national recording industry trade publication, RPM Magazine. Grealis used the magazine as a vehicle to promote Canadian acts to radio stations and the record business. RPM Magazine also charted a new course for developing the Canadian music industry by connecting key industry figures across the country.
Walter Grealis was also a key figure in establishing today's JUNO Awards. In 1964, he and business partner Stan Klees created RPM Magazine's Gold Leaf Awards, which started out as simply a readers' poll of favourite artists. By the mid-1970s the awards evolved into a broadcast ceremony that took Canadian talent to the national stage. In 1970, Gold Leaf was substituted for the nickname 'JUNO' after the then CRTC chairman Pierre Juneau. In 1993 Grealis was made an Officer in the Order of Canada, the second highest honour that can be bestowed on a Canadian.
In November of 2000, Walt Grealis closed the doors of RPM Magazine after 37 years of weekly publication, including over 7000 charts and countless stories on the music industry in Canada. Walt Grealis passed away peacefully in 2004. He said near the end, "I lived a good life. What I did for a living, most people would like to do for fun."
Recipents