Get to know 2022 Rap Single of the Year Presented by ADVANCE, Canada's Black Music Business Collective nominee, Charmaine in our "7 Questions With" series where we speak with first-time JUNO Award nominees from all genres.
Born in the Zimbabwean capital of Harare, Charmaine relocated to the United States at the age of five, bouncing around the Midwest with her family at first before eventually settling in Nashville for a large chunk of her childhood. Living in the American South was an eye-opening experience, but by the time high school rolled around, Charmaine was already on the way to her next culture shock, this time heading north of the border to Toronto, where life would soon take a dark turn. Charmaine was living in a run-down Motel 6, crammed into a single room with her parents and three siblings when she wrote her first song. Fast forward to the present and Charmaine is one of Canada's most buzzed-about new artists, with an exhilarating blend of brash hip-hop swagger and addictive R&B appeal that already has critics hailing her as rap's Queen of the North.
1. How did it feel to be nominated for a JUNO?
It feels unbelievable to be nominated. I screamed at my TV so loud when I saw my name. I think its every artist's goal to be recognized enough to be nominated for an award. I'm super honoured.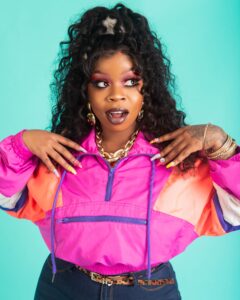 2. Who are your biggest musical influences?
My biggest musical influences are Missy Elliot and Beyoncé. I binge watch Bey's concerts and Missy's videos a lot, it's crazy haha! I just love the work ethic, the creativity and drive I've watched them pour into their careers and art.
3. What are 3 items you require when you're on-tour?
My phone, some snacks and a lil dranky drank haha!
4. What do you think is the best song you've ever released? What's the story behind it?
I think "WOO!" is the best song I've released so far. I remember just going into the studio with my production team (Lantz, Runway and David Ariza), and we wanted to create something fun that would make people feel good listening to it. It was during quarantine, and I missed going out, so we made a record that made us FEEL like we weren't in lockdown. It's one of my favourites!
5. Which artist(s) would you like to collaborate with most?
I would LOVE to collaborate with Missy Elliot. Like I think I'd pass out if it happened….
6. What has been your favorite performance of your career?
My favourite performance was the last one I did at the Opera House. I think I really challenged myself to bring more energy and professionalism to my show. It turned out amazing and my band, dancers and DJ really came through and helped me shut it down!
7. What's next for you?
I'd say more shows, more music, continuing to push boundaries and produce art that is out of the box. More importantly, having fun living my dream.
Tickets for The 2022 JUNO Awards are on sale now! Don't miss out on an unforgettable night of Canadian music hosted by Simu Liu on May 15th.