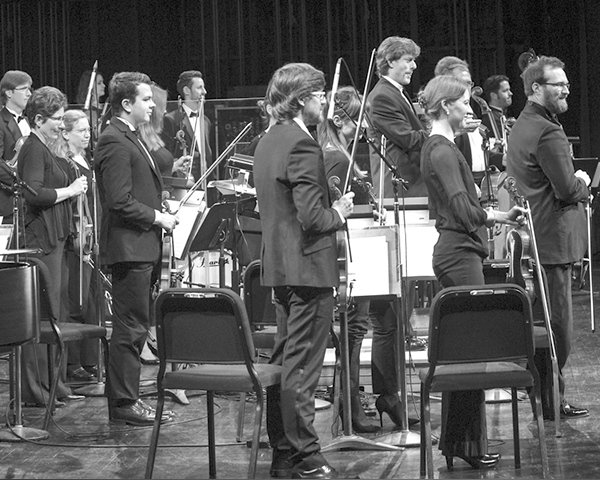 Thunder Bay Symphony Orchestra conducted by Arthur Post with Gryphon Trio
Jordan Pal: Into the Wonder
Category:
Classical Album of the Year: Large Ensemble
The Thunder Bay Symphony Orchestra is one of the most remotely located symphonies in Canada. Its host city is the smallest in the country to have a full-time professional orchestra. Celebrating its 58th season, the TBSO continues to entertain and enrich the lives of Northwestern Ontario residents with thrilling concerts, outreach performances, regional touring, educational programs and concerts, and recordings of both classical and popular music. The TBSO has evolved and matured over the years, developing a strong sound from its relatively small core of 30 players. Its repertoire includes Canadian compositions, such as the première of Jordan Pal's Starling and Into the Wonder in 2015, as well as choral works featuring the Thunder Bay Symphony Chorus, which is now in its 42nd year. The TBSO continues to evolve. Because of its isolated geographic location, it is developing a vision that fits the new frontier; a vision that embraces and celebrates multiple cultures of our country: Indigenous, francophone, European and world cultures that live together in Ontario's vast northern wilderness.
The Gryphon Trio has firmly established itself as one of the world's preeminent piano trios, garnering acclaim and impressing international audiences with its highly refined, dynamic and memorable performances. With a repertoire that ranges from traditional to contemporary and from European classicism to modern-day multimedia, the Gryphons are committed to redefining chamber music for the 21st century. The 2017–18 season marks the Gryphon Trio's 25th anniversary. Creative innovators with an appetite for discovery and new directions, the Gryphon Trio has commissioned over 75 new works and frequently collaborates on projects that push the boundaries of chamber music. The trio tours regularly throughout North America and Europe, and their 19 recordings are an encyclopedia of works for the genre. Honours include two JUNO Awards for Classical Album of the Year and the prestigious 2013 Walter Carsen Prize for Excellence in the Performing Arts from the Canada Council.