Revisiting Artists' Pleas for Compassion and Understanding on Canada's First National Day for Truth and Reconciliation
In May 2021, the Tk'emlúps te Secwépemc First Nations announced that the remains of 215 children had been found buried at the former Kamloops Indian Residential School in B.C. This horrific discovery was a painful reminder to Canadians of the intergenerational trauma and systematic abuse of Indigenous people, many of whom are residential school Survivors.
With The 2021 JUNO Awards following less than two weeks after the Kamloops discovery, Indigenous families and communities were in the thoughts of Canadian artists and industry members across the country.
"The genocide basic to this country's birth is ongoing and we need to face it together and I ask for your compassion."

— Buffy Sainte-Marie
Canadian Music Hall of Fame inductee and activist, Buffy Sainte-Marie set the tone for The 50th Awards during her opening land acknowledgement where she addressed the nation with a heartfelt plea for compassion and unity.
"Treaties across Canada invite Canadians and newcomers into new meaningful relationships with the original people of this country in the spirit of peace, and friendship, and respect." She declared. "The genocide basic to this country's birth is ongoing and we need to face it together and I ask for your compassion."
The date of the 2021 JUNO Awards coincided with National Indigenous History Month, a time for learning about, appreciating and acknowledging the contributions of First Nations, Inuit and Métis people. It is also a time dedicated to residential school Survivors, the families left behind, and those who did not return home.
This sentiment was present throughout the evening as artists spoke out to share their grief and solicitude.
Singer-songwriter Susan Aglukark addressed the tragedy during her introduction of MusiCounts Teacher of the Year, Dr. Mary Piercey-Lewis from Inuksuk High School in Iqaluit, Nunavut. "We grieve with you," she said. "And we want you to know that they will not be forgotten."
The Tragically Hip also used the JUNOS stage as a platform to acknowledge the recent events and pay tribute to Gord Downie's legacy. Downie's bandmates, peers, and brother spoke of his commitment to reconciliation and building a better Canada.
A quote from Gord Downie was shared which directed viewers to the 215 pledge, an initiative by the Gord Downie & Chanie Wenjack Fund urging leaders and decision-makers to take action to ensure "​​no child who died while in the care of a residential school is lost and that the experiences of all those affected by residential schools are honoured."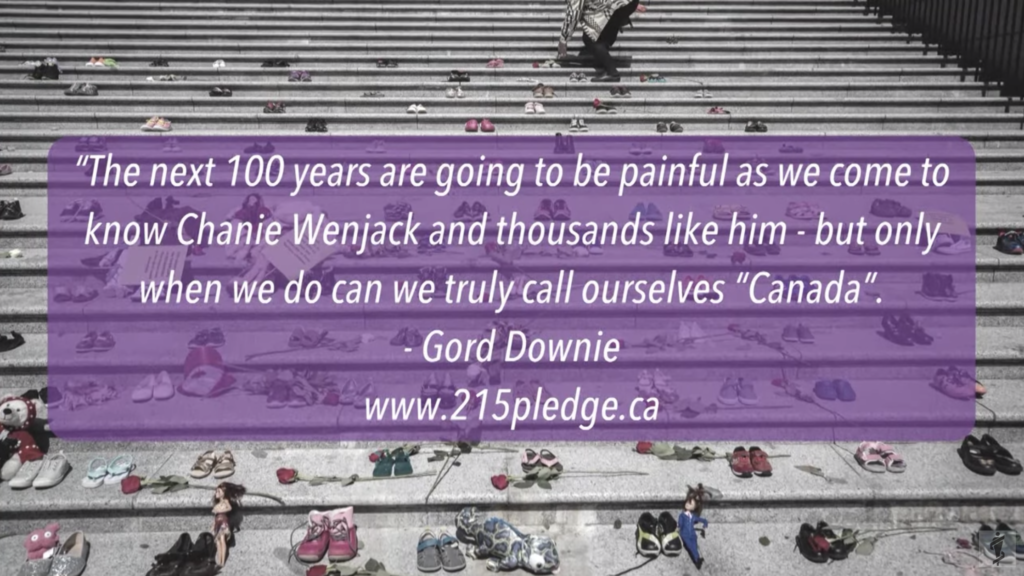 "The next 100 years are going to be painful as we come to know Chanie Wenjack and thousands like him – but only when we do can we call ourselves truly Canadian" Gord Downie had said.
Solidarity and compassion for Indigenous communities were also recurring themes at the JUNO Opening Night Awards. Crown Lands, a duo with Indigenous roots, won Breakthrough Group of the Year and dedicated their speech time to speak out about the national reckoning over residential schools and Canada's mistreatment of Indigenous people.
"We want to take this moment to talk about how every Canadian residential school should be thoroughly investigated," they said. "The families of those departed all deserve closure. People are living in abhorrent conditions in this nation and there is a lot more to talk about here. We are going to keep fighting, starting these conversations, and hopefully spark some real change."
While accepting the award for Alternative Album of the Year, July Talk's Peter Dreimanis encouraged fellow Canadians to take action saying, "Our hearts go out to the families of residential school survivors all across the country. We talk about this as a stain on our history, but it is happening every day in this country. We need to show up and be honest with each other."
Indigenous Artist or Group of the Year winner Leela Gilday also shared a few words celebrating the strength and resilience of her fellow nominees and colleagues. "I am so proud to stand here shoulder to shoulder with these people that tell our truths and tell our hard truths, but also celebrate our resilience. All of the nominees and all of our people that make music, this is a time of reckoning, this is a time of reckoning and I am so honoured to stand here…"
Since the JUNO Awards on June 6th, hundreds of suspected graves have been located and experts anticipate thousands more will be located as investigations continue, confirming what Indigenous communities have known for years.
September 30th, now known as the National Day for Truth and Reconciliation, is a day to recognize and commemorate the devastation residential schools have caused Indigenous families and communities and honour those who have been affected by this injustice.
"Our hearts go out to the families of residential school survivors all across the country. We talk about this as a stain on our history, but it is happening every day in this country. We need to show up and be honest with each other."

— Peter Dreimanis, July Talk
Although the National Day for Truth and Reconciliation is a day of remembrance, it is also a day for generating conversations and actions toward building relationships between Indigenous and non-Indigenous peoples based on the recognition of rights, respect, cooperation and partnership.
To learn more about the history of residential schools and actionable steps you can take toward reconciliation visit the Gord Downie & Chanie Wenjack Fund's full list of recommended resources and reconciliACTIONs.
Resources recommended by the Gord Downie & Chanie Wenjack Fund:
Indigenous Perspectives Education Guide by Historica Canada
Popular narratives of Canadian history have most frequently been told from the perspective of European settlers. As a result, Indigenous experiences have often been neglected or excluded from the telling of our country's history.
National Center for Truth and Reconciliation Truth and Reconciliation Commission of Canada: Calls to Action
A shared vision held by those affected by Indian residential schools was to create a place of learning and dialogue where the truths of their experiences were honoured and kept safe for future generations.
On Screen Protocols & Pathways: A Media Production Guide To Working With First Nations, Metis, and Inuit Communities, Cultures, Concepts & Stories (French & English)
While this resource was commissioned by imagineNATIVE to provide cultural principles, key findings from a national consultation process, and best practices for filmmakers, production companies, and funders when depicting Indigenous content on-screen, it is well worth the read for everyone to better understand their own role in sharing Indigenous knowledge, stories and learning.
September 30th has been declared Orange Shirt Day annually, in recognition of the harm the residential school system did to children's sense of self-esteem and well-being, and as an affirmation of our commitment to ensure that everyone around us matters.
Starting to Talk: A Guide for Communities on Healing and Reconciliation from the Legacy of Indian Residential Schools by The Sioux Lookout Community Coalition for Healing and Reconciliation c/o the Sioux Lookout Anti-Racism Committee
Starting to Talk – a guide if you don't know where to begin.
They Came for the Children by The Truth and Reconciliation Commission of Canada
Report created by the Truth and Reconciliation Commission of Canada. Issued also in French under the title "Ils sont venus pour les enfants".
United Nations Declaration on the Rights of Indigenous Peoples
The official resolution was adopted by the United Nations General Assembly on September 13, 2007.
VIDEO: Talking to kids about Residential Schools
In this video, Monique Gray Smith shares tips on both talking to kids about Residential Schools, but also how to prepare yourself as the adult to have these conversations. The video is for parents, grandparents, educators…anyone really with children in their lives. Also included are a number of author tips of books to read, and podcasts to deepen and continue your learning.
Where are the Children? Legacy of Hope Foundation
The resilience of Indigenous Peoples is evident in efforts to address the effects of unresolved trauma, thereby conferring upon future generations a renewed legacy of peace, strength, and well-being on this interactive website.
Woodland Cultural Centre – Save the Evidence
As one of only a handful of residential school buildings left still standing in Canada, the Mohawk Institute Indian Residential School is a physical reminder of the legacy of assimilation imposed upon Indigenous children in Canada.