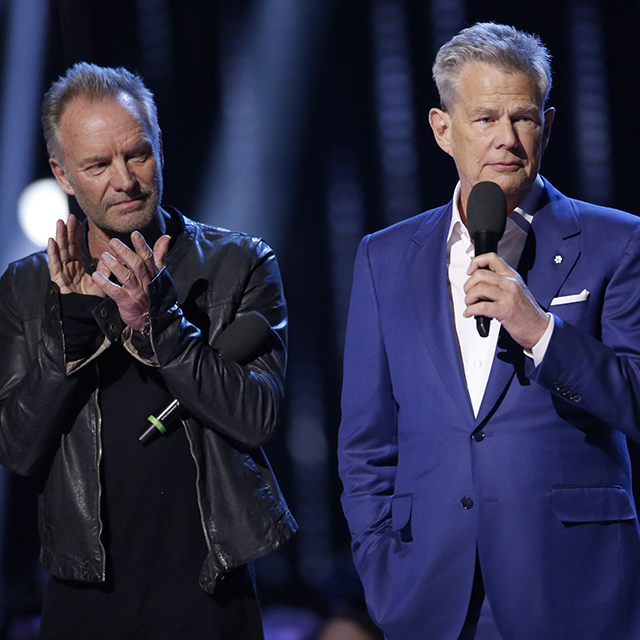 Related Information
Winners & Nominees
JUNO Week Events
Photo: Loud Luxury and Brando perform "Body" at The 2019 JUNO Awards alongside the Western Mustangs Band and Cheerleaders (top). Credit: CARAS/iPhoto.
Sting introduces David Foster, recipient of the Humanitarian Award Presented by Music Canada, at The 2019 JUNO Awards (left). Credit: CARAS/iPhoto
What started as the RPM Gold Leaf Awards in 1964 by RPM editor and publisher Walt Grealis and record label executive Stan Klees, soon became The JUNO Awards in 1971. Named in tribute to Pierre Juneau, the first chairperson of the Canadian Radio-television and Telecommunications Commission (CRTC), the JUNO Awards were founded to raise the public profile and recognition of musical artists in Canada.
The JUNO Awards has evolved from an industry awards event to a weeklong festival that travels city to city across the country. It encompasses both public-facing fan events and industry/networking opportunities featuring a diverse array of Canadian artists and emerging talent. In addition to The JUNO Awards Broadcast, JUNO Week event programming includes JUNO Songwriters' Circle, JUNOfest, JUNO Fan Fare, JUNO Cup, and more.
In 2002, The JUNO Awards went on the road to take the music to the fans and expanded its scope to include a series of public and private events outside of the Awards broadcast. Each host city has embraced their opportunity to support the JUNO Awards and build an enduring legacy of music programs in their market.
Showcasing a new host city and their music scene each year, JUNO Awards "On The Road" has been an enormous success with measurable economic, public relations and artist development impact in all of the markets visited to date.
---
To date:
Saskatoon (in 2020)
London (2019)
Vancouver (2018)
Ottawa (2017)
Calgary (2016)
Hamilton (2015)
Winnipeg (2014)
Regina (2013)
Ottawa (2012)
Toronto (2011)
St. John's (2010)
Vancouver (2009)
Calgary (2008)
Saskatoon (2007)
Halifax (2006)
Winnipeg (2005)
Edmonton (2004)
Ottawa (2003)
St. John's (2002)
Hamilton, ON (2001)
Toronto, ON (2000)
Hamilton, ON (1999)
Vancouver, BC (1998)
Hamilton, ON (1995-1997)
Toronto, ON (1992-1994)
Vancouver, BC (1991)
Toronto, ON (1970-1990)