SOCAN
Songwriter of the Year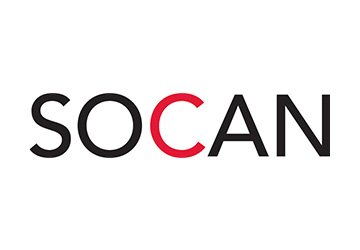 Being named Songwriter of the Year at the JUNOS is the highest accolade there is for a Canadian music creator. SOCAN is honoured to sponsor and present this coveted award.
SOCAN stands for nearly 150,000 member songwriters, composers and music publishers. The creation of new music is honourable, demanding and extraordinary work.
Twenty-sixteen continues a multi-year trend of massive domestic and worldwide success for SOCAN members who comprise many of the most successful songwriters on the planet. Canada's international music creation success goes back decades. Canadians consistently are and always have been at the forefront of music songwriting and composing.
New music feeds and nurtures an ever-changing, ever-evolving, ever-hungry music ecosystem that brings immeasurable joy, cultural satisfaction and national pride to billions worldwide. Songwriters and composers deserve to receive what they have fairly earned when their work is played in public performances.
SOCAN makes possible what for music creators would be impossible – identifying the use of copyright music, collecting fair licenses for its use, and ensuring that the money that the copyright holder has fairly earned is received, so that more great music can be made.
Over the decades, thousands of SOCAN members have been nominated for JUNO Awards. We are once again exceedingly proud of their accomplishments.
The winner of the Songwriter of the Year Award Presented by SOCAN represents the utmost achievement in music creation, and characterizes the prodigious and irreplaceably valuable and pleasurable work that Canada's music creators bring to all of our lives every single day.
As the largest organization in Canada's music ecosystem, and as SOCAN leads the global transformation of music rights, we are proud to sponsor and present the 2017 Songwriter of the Year Award.