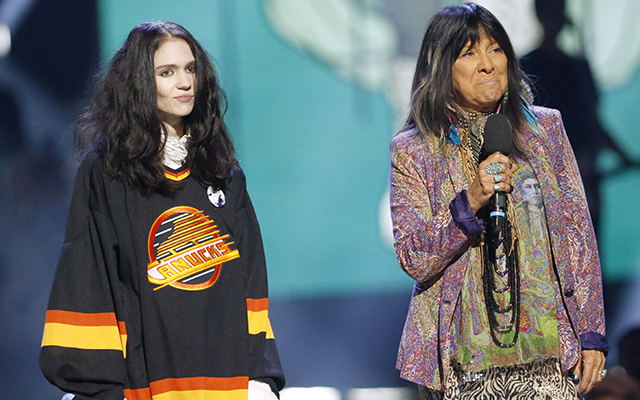 About CARAS
Learn more about The Canadian Academy of Recording Arts and Sciences.
---
Related Information
CARAS Board of Directors
Regional Representatives
CARAS & MusiCounts Staff
---
Photo: Daniel Caesar, joined onstage by JUNO-nominated producers Jordan Evans and Matthew Burnett, wins R&B/Soul Recording of the Year Sponsored by CBC Music at The 2018 JUNO Awards in Vancouver, BC. (top), 2018 JUNO winners Grimes (Video of the Year Presented by Stingray Music) and Buffy Sainte-Marie (Indigenous Music Album of the Year Sponsored by APTN) introduce Lights' performance. (left).
About CARAS
The Canadian Academy of Recording Arts and Sciences/L'académie canadienne des arts et des sciences de l'enregistrement (CARAS) is a not-for-profit organization created to preserve and enhance the Canadian music industry and to contribute toward higher artistic and industry standards. CARAS' mandate is comprised of four key pillars: Educate through our music education charity MusiCounts programs and initiatives, Develop emerging artists through mentorship and development programs, Celebrate Canadian artists with year round JUNO Awards showcasing, and Honour music industry icons through the Canadian Music Hall of Fame.