The 2016 JUNO Awards are fighting climate change with offsets from Less Emissions—and you can too!
Mar 07, 2016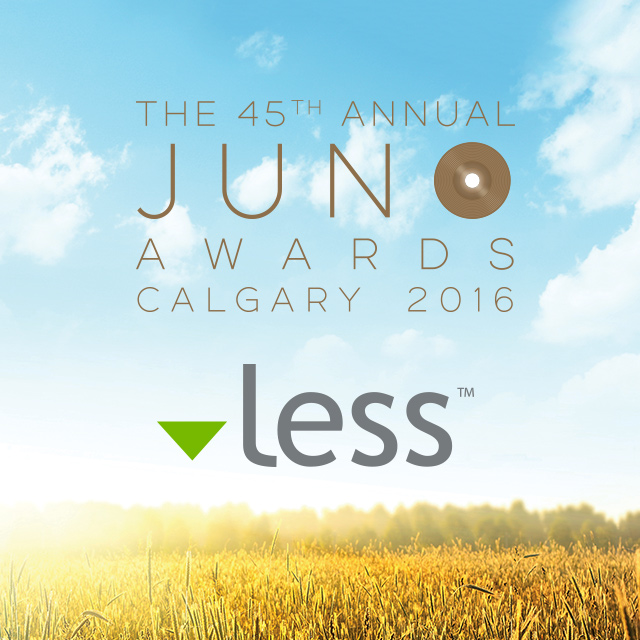 The importance of taking action on climate change took centre stage at the end of last year when leaders from around the world met in Paris and agreed to limit the global temperature rise to below 2˚C. Reaching this goal will require organizations, businesses, and individuals to take steps to reduce the emissions that contribute to climate change.
The Canadian Academy of Recording Arts and Sciences (CARAS) is a leader in this area and has taken action since 2010 to reduce the carbon footprint of operations and offset emissions generated by the JUNO Awards. This year marks the third straight year that CARAS has chosen Less Emissions, ranked as Canada's highest quality carbon offset provider by The David Suzuki Foundation and The Pembina Institute, to offset the carbon emissions resulting from the heating and cooling of JUNO Week event venues as well as travel by CARAS members, production crews, and event attendees.
CARAS and the JUNO Awards are following a 3-step approach to reducing climate change impacts:
Conserve. First and foremost, CARAS finds ways to minimize their emissions—such as designing event sets with LED technology to conserve the amount of energy used and working with venues to minimize energy consumption during event set up and strike.
Switch to Green. CARAS switches to environmentally lower-impact alternatives for required products and services. For example, CARAS is choosing Bullfrog Power—Less' sister company—to be the green energy provider for the 2016 JUNO Awards. This means CARAS bullfrogpowers all event venues, over 1,725 hotel room nights, and its head office.
Offset. Finally, CARAS offsets those emissions that could not be further reduced or avoided through Less, a trusted source of high quality offsets.
Did you know that you can purchase offsets too? Less has two options for purchasing offsets. For travel, you can purchase Lessen My Flight™, Less' independently audited flight offset program, where you can calculate and purchase offsets to help mitigate the greenhouse gas emissions associated with your air travel. For all other kinds of offsets, you first need to calculate the amount of emissions that you want to offset. Once you have that number, you can purchase high quality offsets directly at less.ca.
Want to know more about the highest quality carbon offset program in Canada? Visit less.ca

About Less Emissions Inc.
Less, ranked as the highest quality offset provider by the David Suzuki Foundation and the Pembina Institute, provides businesses and individuals interested in lessening their environmental footprint with two convenient options for purchasing offsets. Less' international-based offsets are derived from Gold Standard-certified projects, as endorsed by leading environmental groups, including WWF International. Less' Canadian-based offsets are sourced from projects that have achieved certification under the internationally recognized VER+ Standard. www.less.ca