Shirley Elford: the Hamiltonian designer of the iconic JUNO statuette
Mar 15, 2015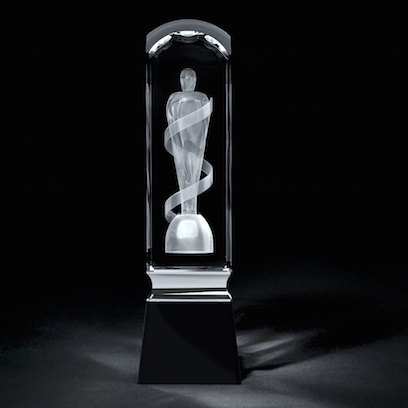 JUNO Week is kicking off in Hamilton, Ontario and we'd like to take this opportunity to pay tribute to a Hamiltonian who worked closely with The JUNO Awards. The modern JUNO Award statuette was designed by renowned glass artist and Hamiltonian, Shirley Elford. Elford designed the JUNO Award statuette that was distributed to winners from 2000 to 2010. Each one was hand-blown by Shirley, making each one unique. Over the course of more than 10 years, she put her personal touch on over 2,200 JUNO Awards.
Shirley battled with ovarian cancer, and due to her declining health she re-designed the statuette in 2011 to be less labour-intensive. The molten glass human statuette wrapped in an upward spiralling musical staff was then reimagined within a solid volume crystal tower.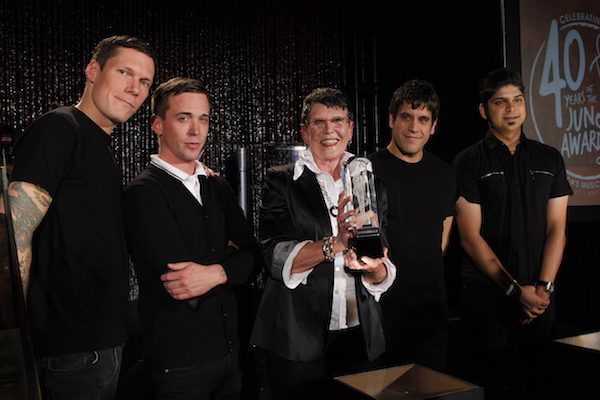 Shirley donated her design fee to MusiCounts, the music education charity associated with CARAS. Shirley's big heart extended beyond her work with the JUNOS: in 2003 she established The Angel Fund, which distributed grants to support children's mental health. In 2010 she created the Gift of Today Fund which supports a diverse array of initiatives toward supporting those fighting ovarian cancer.
Shirley passed away in November of 2011 and her legacy lives on with every JUNO statuette awarded.
To learn more about Shirley Elford and the work she did in the Hamilton community, read this Hamilton Spectator piece by Graham Rockingham.