Sarah Mclachlan's Name Is Now Officially in the Canadian Music Hall of Fame
Oct 17, 2017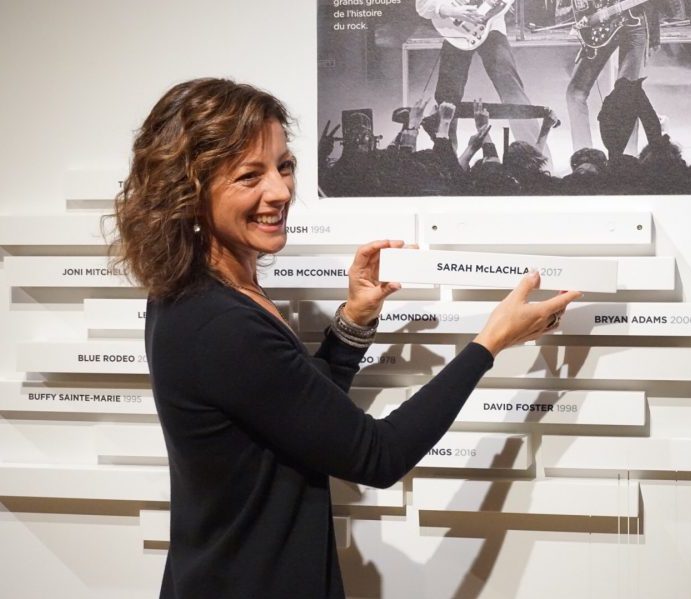 This past weekend, 2017 Canadian Music Hall of Fame Inductee Sarah McLachlan visited Studio Bell – Home of the National Music Centre to place her name plaque on the wall at The Canadian Music Hall of Fame; marking the second straight year this new tradition has been celebrated. McLachlan's plaque now sits alongside other Canadian music legends like Joni Mitchell (1981), The Four Lads (1984), RUSH (1994), and Denny Doherty (1996) of The Mamas & the Papas.
Thx to the NMC Members who came to the plaque ceremony this weekend. Wanna hear about cool events? Become a member! https://t.co/KtYGj4yCNF pic.twitter.com/gGUYgEPUgy

— NationalMusicCentre (@nmc_canada) October 16, 2017
During the plaque ceremony, McLachlan discussed the importance of music in her life: "I've said it many times in the past and its true to this day, music saved me as a kid. I don't know what I would have done if I didn't have music in my life."
Beautiful remarks from @SarahMcLachlan during today's @CANMusicHF plaque ceremony at #StudioBell. 3/3 @TheJUNOAwards pic.twitter.com/ynpbDwCERm

— NationalMusicCentre (@nmc_canada) October 14, 2017
McLachlan's 30-year career was celebrated at The 2017 JUNO Awards in Ottawa, where co-host Bryan Adams presented her with the special award. While accepting her award, McLachlan once again revealed the role music has played in her life:
"Music is my church. It's been my comfort and salvation 'cause it's always been there for me like a true friend. It's shown me what it's like to part of something bigger than myself. Because of music, my life has a deeper meaning and a powerful sense of purpose."
Watch below as the honourable Bill Clinton, Tegan and Sara Quin, Sheryl Crow, Josh Groban, Diana Krall and James Taylor congratulate Sarah McLachlan on her induction into the Canadian Music Hall of Fame.
Featured photo courtesy of Twitter / The National Music Centre