Sarah McLachlan to be Inducted into the Canadian Music Hall of Fame at the 2017 JUNO Awards
Feb 02, 2017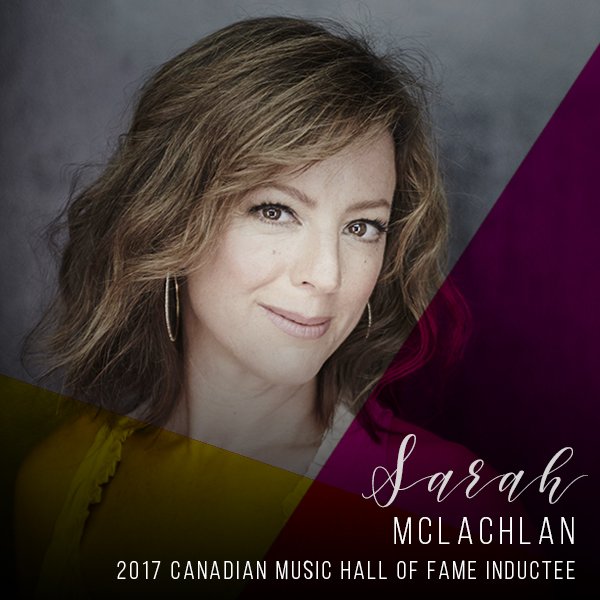 We're thrilled to announce that multi-platinum, award-winning singer and songwriter Sarah McLachlan will be the 2017 inductee into the Canadian Music Hall of Fame! With a career that spans almost thirty years, McLachlan is one of Canada's most celebrated and treasured artists!
Sarah McLachlan's career began at 17 with pop band October Game. She quickly established herself as a rising star as her solo albums climbed the charts and went gold and platinum. Who else has Adia stuck in their heads right now? With songs like Building A Mystery and Sweet Surrender, there was no denying Sarah McLachlan was an unstoppable force. In 2010 McLachlan performed her hit Ordinary Miracle at the opening ceremony of the Olympics in Vancouver to an estimated three billion television viewers worldwide. That's a lot of people!
Sarah McLachlan is known not only for her passion for music, but also for her philanthropic initiatives. In 1997 she created Lilith Fair, a festival dedicated to showcasing and supporting female artists (#GirlPower). Over the course of its 3-year run, it brought more than 2 million people together and raise over $7 million for women's charities! McLachlan's philanthropy extends to other causes close to her heart including animal welfare, disaster relief, HIV/AIDS and cancer research. In 2003 she founded the Sarah McLachlan School of Music, which offers free music education, mentorship and support to underserved and at-risk children and youth.
Sarah McLachlan continues to be an inspiration to all and we're thrilled to welcome her into the Canadian Music Hall of Fame.  The Canadian Music Hall of Fame was created to acknowledge artists who have made an outstanding contribution to the international recognition of Canadian music. Sarah McLachlan will be honoured with a tribute on Sunday, April 2 at The 46th Annual JUNO Awards Broadcast on CTV from the Canadian Tire Centre in Ottawa, Ontario where she will join the ranks of Canadian music icons including Anne Murray, Joni Mitchell, k.d. lang, Leonard Cohen, Neil Young, Oscar Peterson, RUSH, Burton Cummings, Alanis Morissette, and Shania Twain. Want to see it live? Get your tickets to the 2017 JUNO Awards now!
---
How can you stay up to date on all things JUNOS?