Now Playing On JUNO TV: Allan Slaight JUNO Master Class Documentary Series
Nov 27, 2015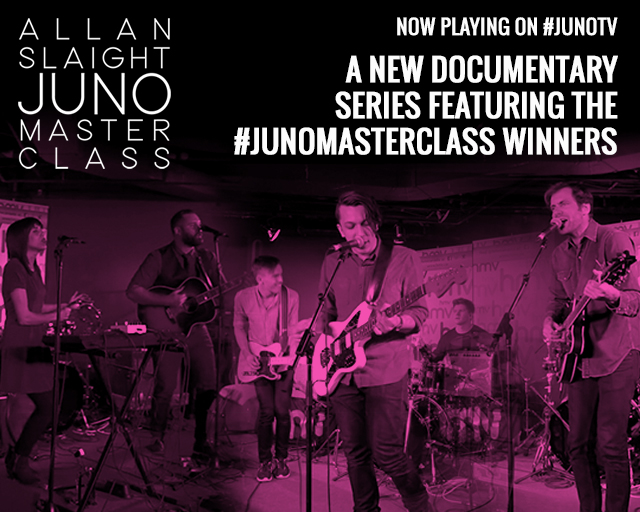 We at CARAS (The Canadian Academy of Recording Arts and Sciences) are dedicated to promoting and celebrating Canadian music and artists. Through MusiCounts, we help keep music alive in schools across the nation. Through The JUNO Awards, we recognize artists for excellence of achievement in recorded music. Through the Canadian Music Hall of Fame, we recognize individuals or groups who have made an outstanding contribution toward the greater international recognition of Canadian artists and music.
In 2015, we noticed that we could be doing more for artists who are emerging onto the scene. That's when we, along with Slaight Music, created the Allan Slaight JUNO Master Class. The #JUNOMasterClass is the premier artist development program in Canada, providing the crucial tools to help new and emerging artists become JUNO-ready.
After hundreds of submissions, deliberations from Canadian music industry leaders, and a final cut from the Super Jury (including Gavin Brown, Max Kerman, Kardinal Offishall, Sam Roberts, Allan Reid, and Ali Slaight), the results were in! The three winners of the inaugural Allan Slaight JUNO Master Class are Fort Langley, BC's Derrival, St. John's NL's Fortunate Ones, and Winnipeg, MB's Slow Leaves.
We flew the winners out to Toronto in late October for an extensive and intensive mentorship week. With help from Canada's Music Incubator at Coalition Music, a rigorous and customized curriculum was developed, covering every facet of the Canadian music industry. The bands had the chance to learn about everything from accounting, to licensing, to media training. They underwent performance workshops, social media audits and, finally, the mentorship week culminated in a music industry showcase hosted at hmv Underground. The JUNO TV cameras were rolling the entire time, capturing every nugget of wisdom, every triumph, and every tear.
Here, for your viewing pleasure, is our original JUNO TV documentary series starring the winners of the inaugural Allan Slaight JUNO Master Class.
---
How can you stay up to date on all things JUNOS?