Master Class Is in Session!
Oct 21, 2016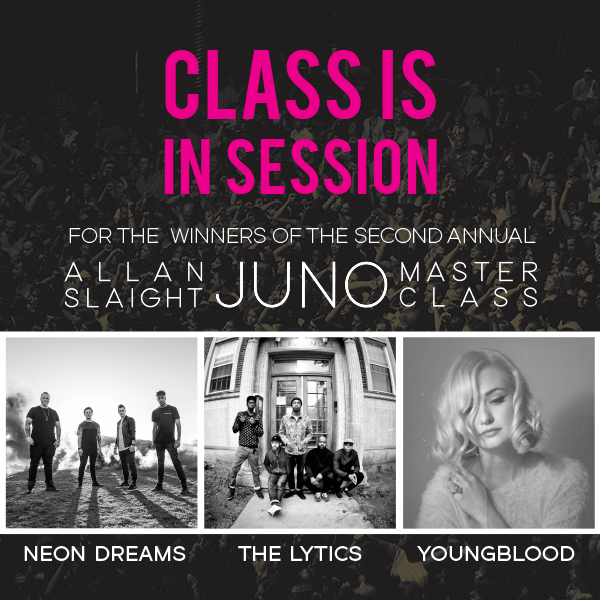 It's Back-To-School for the 2017 JUNO Master Class Winners!
No matter how many years it's been since you were in school, autumn will always feel like a time to sharpen those pencils and put your thinking caps on. It's no different for the winners of the 2017 Allan Slaight JUNO Master Class! Halifax's Neon Dreams, Winnipeg's The Lytics, and Vancouver's Youngblood are making their way to Toronto for an intense week of learning the ins and outs of the music business with Canada's Music Incubator at Coalition Music. Not only that, but they'll be getting some one-on-one time with JUNO Master Class Super Jurors Lights, Max Kerman (Arkells) and Gavin Brown, all culminating with an opportunity to showcase their music for key members of the Canadian music industry!
In case you need to catch up, check out the behind-the-scenes video of the Super Jury's deliberation day where they whittled down the top ten finalists to the three winners!
All caught up? Great! We asked Neon Dreams, The Lytics, and Youngblood to answer a few questions about how they were feeling before they made their way to Toronto.
---
You're about to embark on a whirlwind week of mentorship and development. What, specifically, do you hope to get out of the program this week?
Neon Dreams: We are very excited to be heading to Toronto. There is so much jam-packed into this one week, but we are really excited to network with other songwriters and producers. We are consistently looking to elevate our music, and we feel we will have a new perspective at the end of the workshops. So much to learn!  
The Lytics: We're going to be spending a lot of time with people in the industry and we're looking forward to building on those relationships, not just for the week but further on. Mentorship is a valuable asset when you're trying to break in and navigate the industry. Overall, I'm hoping we make some connections, get a better understanding of ourselves as artists, and the business of being an artist.
Youngblood: Because I'm typically a big-picture thinker, I'm ready to get into the fine-tuning elements of what makes a band successful.
As the second group of JUNO Master Class winners EVER, what have you learned from watching last year's winners?
Neon Dreams: We had a great opportunity to speak with Fortunate Ones about their experience last year, and it seems like winning the JUNO Master Class was a complete game changer for them. They felt everything elevated, from music to business. So I think it will be something similar with us!
The Lytics: Watching last year's winners I think the most important thing is to be yourself, as open as you can to the experience, and enjoy it.
Youngblood: Check what you think you know at the door, and go in with an open mind.
You've seen your curriculum for the week, what are you most excited to learn about?
Neon Dreams: Getting to go into the major social media head offices to learn new strategies I think will be really beneficial. We feel social media is one of the top key elements to an artist's image, so that can always improve. Also, I would be lying if I said we weren't pumped to do the songwriting workshop with Lights.
The Lytics: The most exciting part of what we do is exploring our creativity, so I think we're all looking forward to the songwriting and studio elements. While that's always the fun part, there's always room to grow on the business side. I think we'll get a lot out of media strategies and business planning.
Youngblood: I think I'm most excited for the songwriting workshops.
Are there any aspects of the program that make you nervous? How do you hope to combat the nerves?
Neon Dreams: I think we are just so excited to learn and grow, that the nerves are getting masked in all of that. We just can't wait!
The Lytics: There's always an element of nervousness when you're doing something new but the best thing you can do is trust in God and what you know, and dive right in the moment. A little prayer always helps and that's something we like to do before every show.  
Youngblood: I'm equally nervous about the songwriting workshops, since I'll be writing with such seasoned veterans. It's probably not appropriate for me to have a few shots of whiskey before the session, so I'll just try to quell the nerves by taking it one moment at a time.
As touring musicians, you're on the road quite a bit. What's your go-to on-the-road jam by a Canadian artist or group to get you through those long stretches of the highway?
Neon Dreams: Trevor Guthrie – Soundwave, Michael Buble – Feeling Good, Sum 41 – Motivation, Grandtheft & Keyz N Krates – Keep it 100
The Lytics: Everyone has their tastes but as a group we all agree on Saukrates. The man has an amazing catalog.
Youngblood: Money City Maniacs by Sloan
Your bags are packed, you're ready to go. You're about to make your way to Toronto. You've triple-checked to make sure you didn't forget to pack this one crucial item you can't leave at home. What is that item?
Neon Dreams: Cell phone …. lol
The Lytics: There's a few things I like to bring with me. In case where we're staying has a gym or one close by, I got to have some gym wear with me.  I also got to make sure to bring some vitamins or greens..the last thing you want is to be sick on the road.
Youngblood: Leather jacket
---
Now that you're familiar with the Class of 2017, why not follow them on their journey?
Twitter: @OurNeonDreams
Facebook:@OfficialNeonDreams
Instagram: @neondreams
Twitter: @thelytics
Facebook: @thelytics
Instagram: @thelytics
Twitter: @youryoungblood
Facebook: @youryoungblood
Instagram: @youryoungblood
Find out more about the Allan Slaight JUNO Master Class at junomasterclass.ca!
How can you stay up to date on all things JUNOS?