Jam with us at JUNO Cup Jam Presented by TD!
Feb 29, 2016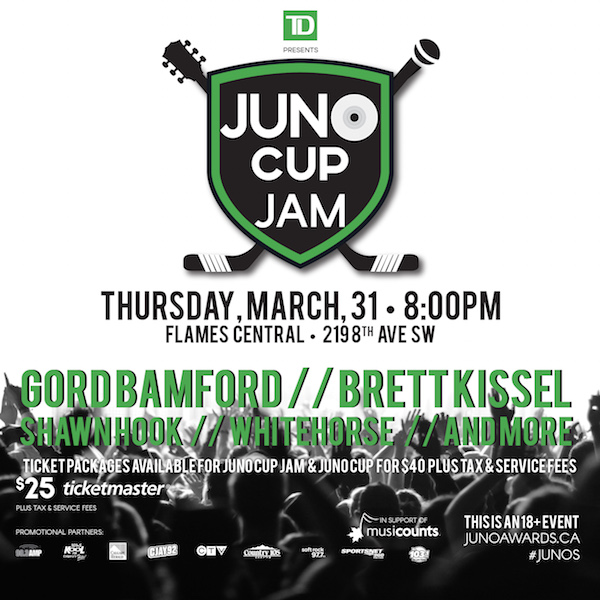 JUNO Week in Calgary is just around the corner! We are so excited and you should be too!
Everyone is rushing and running around to prepare for the week's events. While the NHL Greats are sharpening their skates for JUNO Cup, the Rockers are sharpening their vocal cords for the inaugural JUNO Cup Jam presented by TD!
It's the night before an epic on-ice showdown… Let's jam! JUNO Cup players will be hitting the stage, so you can hit the dance floor. But remember your ID because this event is 18+.
Kick off JUNO Week in style with this concert benefitting MusiCounts, CARAS' music education charity! JUNO Cup Jam is a show you don't want to miss. Before squaring up against some of Canada's hockey legends, the musicians have the chance to show us what they're made of. Sure, the NHL Greats may have an advantage on the ice, but the Rockers know how to shine on stage. See for yourself on Thursday, March 31st, 8 p.m. at Flames Central! Performers include: Brett Kissel, Chad Brownlee, Fortunate Ones, Gord Bamford, Shawn Hook, Whitehorse, and many more!
Tickets for JUNO Cup Jam are on sale now for $25 (plus fees). Or you can get ticket packages for JUNO Cup Jam and JUNO Cup on Friday April 1 at the Max Bell Arena for $40 (plus fees).
Come sing along! Get your tickets through Ticketmaster!
Calgary is waiting.
See you soon!
---
How can you stay up to date on all things JUNOS?