It's ROCK VS JOCK at 13th Annual JUNO Cup
Jan 29, 2016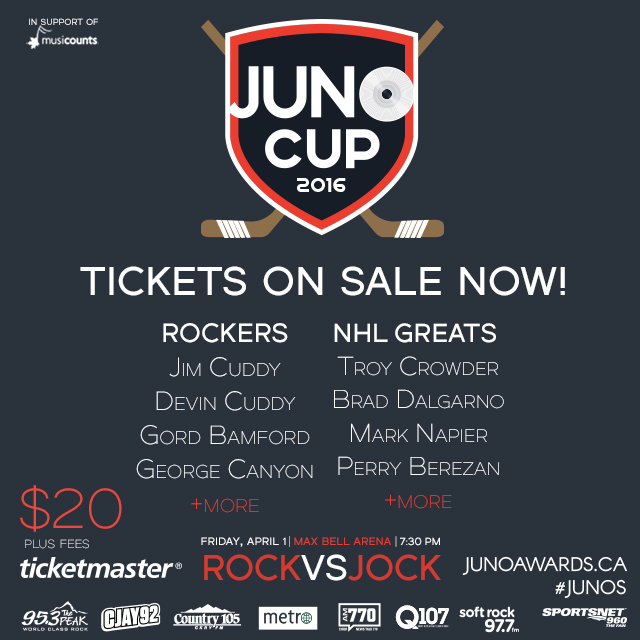 Stop! Drop the puck. Let's rock and roll!
We're thrilled to announce that tickets for JUNO Cup 2016 are now on sale! That's right! Some of Canada's top musicians are dropping their guitars and lacing up their skates once again.
The game will be held at Calgary's Max Bell Centre on Friday, April 1st at 7:30 p.m. Tickets are $20 (plus service charge) with proceeds benefitting MusiCounts. To date, JUNO Cup has raised over $850,000 for CARAS' music education charity! The good ol' hockey game will be at its best, so come on out and support the cause!
Bring your friends too! Tickets are only $15 (plus fees) when buying 10 or more.
This year is sure to be another epic showdown between the NHL Greats and celebrity Rockers. Canadian artists including Blue Rodeo's Jim Cuddy, country stars Gord Bamford and George Canyon, and Devin Cuddy will go up against NHL Alumni including Troy Crowder, Mark Napier, Perry Berezan, Brad Dalgarno, Curtis Glencross, Ron Sutter and Jamie Macoun.
And the roster is growing! Stay tuned as more players are announced.
For more information go to junocup.ca, but don't miss out! Get your tickets now at ticketmaster.ca!
See you there!
Join the conversation online by using the following hashtags:
#ROCKvsJOCK
#JUNOCup
#JUNOS
---
How can you stay up to date on all things JUNOS?