Gearing Up For The JUNO Awards
Mar 09, 2016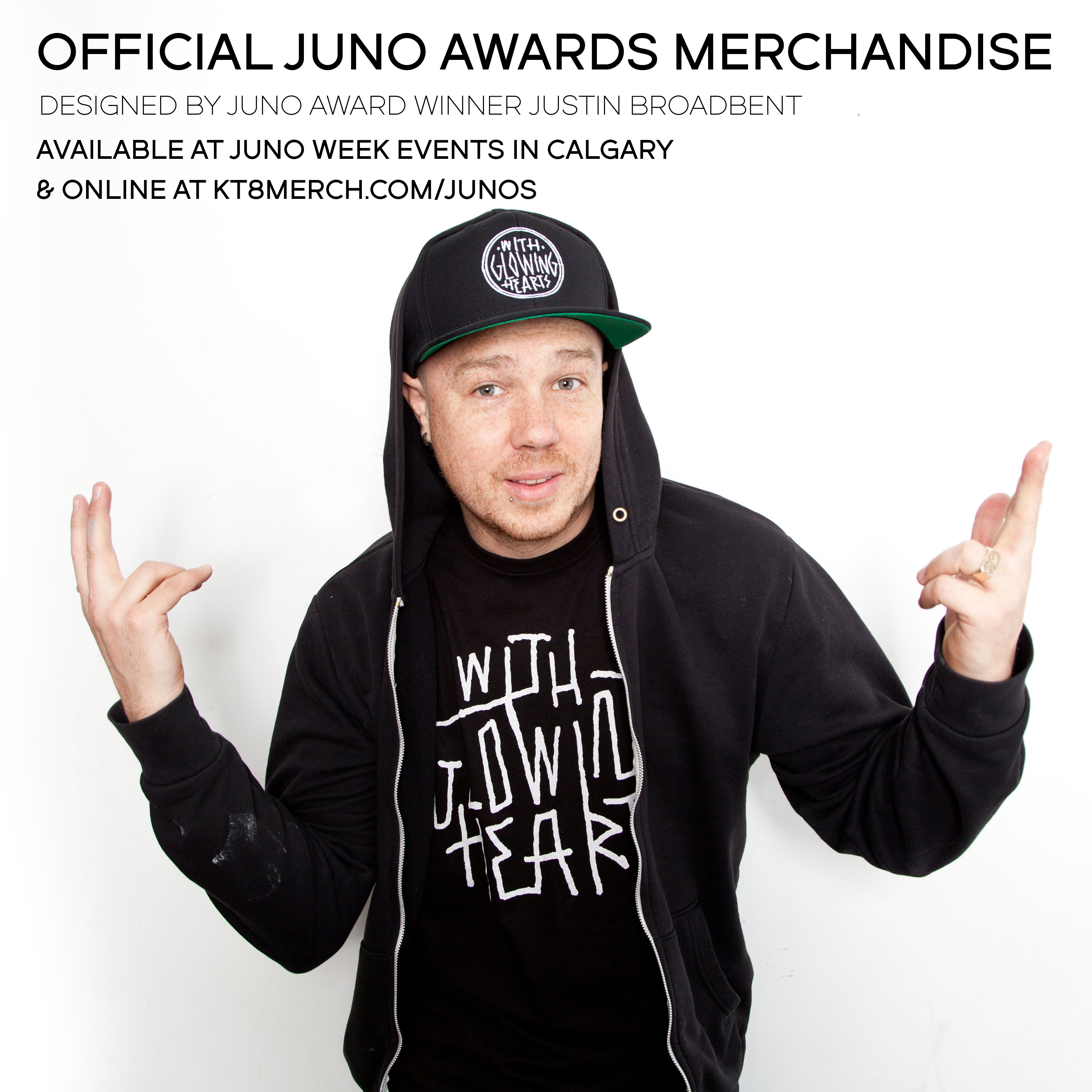 Here's the thing: Canadians know good music. Always have. Always will. There's something about that "True North Strong and Free" that creates the perfect conditions for the sweetest sounds. There's nothing like turning on the radio, hearing a great tune, and bragging loudly "They're Canadian." With glowing hearts, with gleeful pride, with enthusiastic resolve, we celebrate our music.
With that spirit in mind, Justin Broadbent, a JUNO Award winner for Recording Package of the Year, was commissioned to help create some pieces that conveyed such sentiments when it comes to Canadian music.
In his own words:
"Canada is a leader in the world when it comes to opening our hearts and accepting people with love. When The JUNO Awards asked me to make something for their 45th year of celebrating music and art in Canada, I wanted it to have a message of inclusivity, diversity, and kindness.
I like making things that are simple yet multi-layered, which is why I often include words in my visual art. I chose "With Glowing Hearts" since this phrase is familiar and iconic, but at the same time conveys a much deeper message of hope and pride. I limited the colour scheme to black and white to allow the words to shine, and I used my own handwriting, which is messy and imperfect, to create a contemporary spin on a timeless message.
The words "With Glowing Hearts," taken from our national anthem, represent the core of what it means to be a Canadian. Our hearts shine brightly and radiate warmth. This motto speaks both to our history as a nation, and to who we want to be in the future. With the current state of the world, it is important to trust and listen to our glowing hearts, because we could all do with some more generosity, love, and acceptance."
Want to wear your glowing heart on your sleeve (and chest and head)? Get your official JUNO Awards merchandise at JUNO Week events in Calgary or online at kt8merch.com/junos.
Don't forget to take a selfie when you have your new gear and tag us (@thejunoawards on Twitter, Facebook, and Instagram)!
See you in your new threads in Calgary!
---
How can you stay up to date on all things JUNOS?