Festival Insider: Riverfest Elora 2015
Aug 10, 2015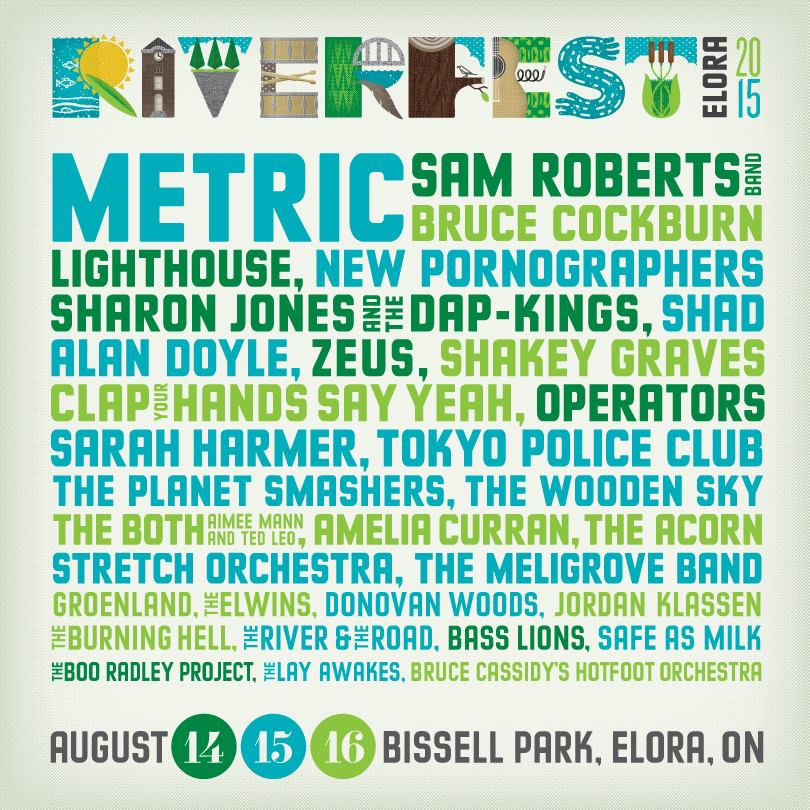 Riverfest Elora 2015 has expanded to a full weekend of music, arts, food and culture. It will be held in Elora's Bissell Park on Friday, August 14, Saturday, August 15 and Sunday, August 16 2015.
The festival, Held along the banks of the Grand River, has come a long way since its humble beginnings just 7 years ago. Following the sold out success of last year's festival – including performances by Blue Rodeo, Serena Ryder, Charles Bradley, Arkells and Dan Mangan – Riverfest Elora returns with an extra third festival day! This means more food trucks, more arts and crafts vendors, more community and, of course, MORE MUSIC!
Headlining this year's festival are Metric, Bruce Cockburn, Sam Roberts Band, Lighthouse, Sharon Jones & the Dap-Kings, Alan Doyle, Sarah Harmer, Tokyo Police Club, SHAD, New Pornographers, Shakey Graves, The Wooden Sky, The Both (Aimee Mann and Ted Leo), Operators, Amelia Curran, Bruce Cassidy's Hot Foot Orchestra, Zeus and over 20 more!!
Locally developed artists including The Boo Radley Project, Kevin Breit's Stretch Orchestra, and The Lay Awakes – a family band including Fergus Wheelchair Basketball legend and Paralympic multi-gold medalist Patrick Anderson and his wife, Anna Paddock – will also be featured on the two main stages.
Riverfest Elora will also be featuring many additional local acts on a small acoustic stage that will include an intimate set from Tokyo Police Club as well as some special surprises! The stage will give up-and-coming local artists the opportunity to play in front of a large, engaged crowd and showcase the incredible and diverse talent this community has to offer.
The visual experience of Riverfest Elora 2015 will be elevated to new levels as the acclaimed sculptor and artist, Tim Murton, will be creating a hauntingly illuminated world of creatures amongst the trees behind the tent stage. This area – which will also be a "chill-out" area of shade and a spot to fill up water bottles – is sure to leave us in awe, as anyone who has attended the artist's 'Twilight Zoo' can attest to.
Three-day weekend passes and individual day passes are now on sale online at http://riverfestelora.com/tickets/ and at several retail outlets, including: Elora @ Ashanti Café; Fergus @ Van Gali's Café and Inn; Guelph @ Bread Bar; and Kitchener-Waterloo @ Orange Monkey Music.
Spencer Shewen
Festival Manager / Media & Artist Relations, Riverfest Elora