JUNO Cup Jam Presented by CBC Sports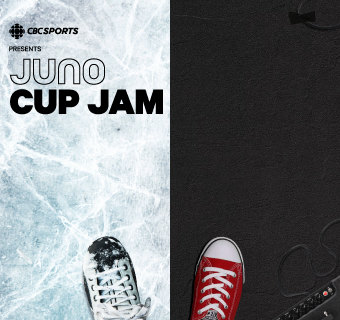 March 22, 2018
8 p.m.
Imperial Vancouver
319 Main Street, Vancouver, BC, Canada
View Google Map
The third annual JUNO Cup Jam will set the tone for an exciting JUNO weekend. Iconic artists and hockey legends playing in the annual JUNO Cup Presented by CBC Sports will entertain with an unforgettable night of musical collaborations and covers. Canada's most talented musicians will come together for this one-night performance at The Imperial (319 Main Street, Vancouver) on Thursday, March 22 at 8 p.m. PT. Ticket proceeds will benefit MusiCounts.
Artists confirmed to participate in this year's event: Aaron Pritchett, Adrienne LaBelle (Supermoon), Alysha Brilla, Barney Bentall, Chad Brownlee, Chuck Keeping (Big Wreck), Cosmo Ferraro (Ferraro), Darryl James (The Strumbellas), Devin Cuddy, Dustin Bentall, Grant Lawrence, Jay Bodner (Indian City), Jill Barber, JJ Shiplett, Kellylee Evans, Matt Sobb (MonkeyJunk), Nice Horse, Nuela Charles, Odds, Rose Cousins, Sam Polley and Shawn Hook. NHL greats Brad Dalgarno (New York Islanders) and Gary Nylund (Toronto Maple Leafs, Chicago Blackhawks, New York Islanders), will also join in the music and hockey hootenanny in support of MusiCounts.
---
Promotional Partners: CBC Music, CBC Vancouver, CFOX, JACK 96.9, Metro News, Rock 101, Vancouver Courier, Vancouver Sun