Bullfrog Power recognizes CARAS and the JUNO Awards for their environmental record!
Mar 07, 2016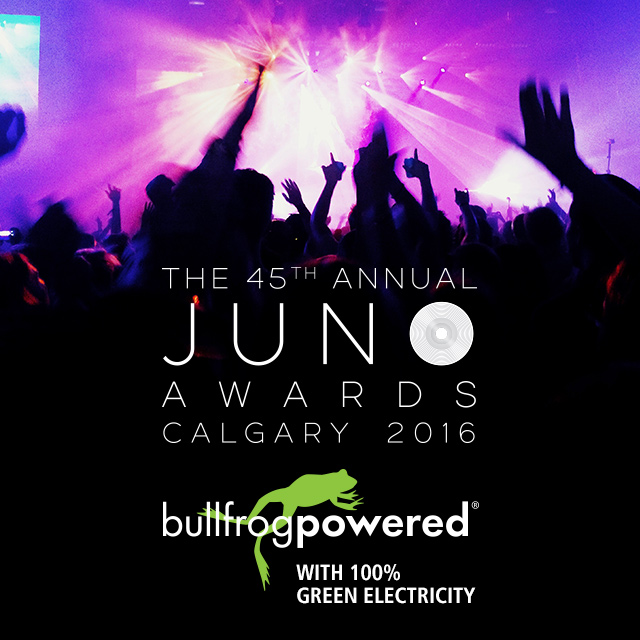 This year, Bullfrog Power, Canada's leading green energy provider, is proud to recognize the JUNO Awards for being one of the longest, consecutively bullfrogpowered events. For an incredible nine straight years, The Canadian Academy of Recording Arts and Sciences (CARAS) has chosen clean, pollution-free electricity for the event. To put that in context, the JUNO Award have been bullfrogpowered for nine of the 10 years since Bullfrog Power was founded.
But what does it mean for an event to be bullfrogpowered? In this case, Bullfrog Power's generators put renewable energy onto the grid to match the amount of electricity used by JUNO events, hotel stays, and the CARAS head office in Toronto. Across Canada, Bullfrog's green electricity comes from clean, green energy sources like wind and water.
By choosing green energy, CARAS and the JUNO Awards are not only reducing their environmental impact but they are also getting the message out to Canadian artists – and their fans – about the importance of taking action on climate change.
Musicians across Canada are also choosing to support renewable energy with Bullfrog Power. This year, JUNO-nominated group The Sheepdogs are once again bullfrogpowering the Canadian dates of their tour. Major Canadian musicians like The Tragically Hip and Sam Roberts Band have also bullfrogpowered their Canadian tours with 100% green energy. Through their partnerships with Bullfrog Power, these Canadian icons are reducing their carbon emissions footprints and also supporting the development of new green energy projects in communities across the country.
Last Earth Day, both Sam Roberts and The Sheepdogs shared a video to help get the word out to Canadians about what drives them to be green and what it means for the JUNO Awards to be bullfrogpowered.
Now you can join them and the rest of the bullfrogpowered community by supporting renewable energy too! Sign up easily, quickly and affordably at bullfrogpower.com today with the promo code JUNOS2016 and you will receive up to $25 off of green electricity and $25 off of green natural gas for your home.
Find out more about how you can choose renewable energy for their home, business or event at bullfrogpower.com.