Buffy Sainte-Marie to Be Honoured with 2017 Allan Waters Humanitarian Award
Jan 18, 2017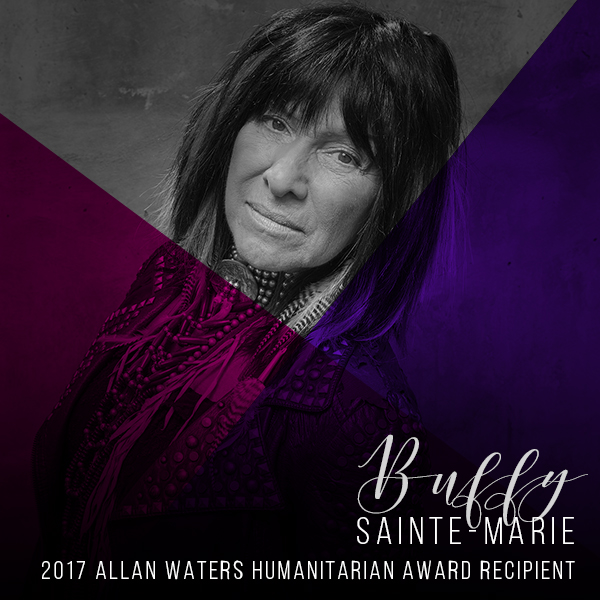 We are extremely pleased to announce that this year's recipient of the Allan Waters Humanitarian Award, sponsored by Bell Media, will be none other than the incomparable Buffy Sainte-Marie!
The Allan Waters Humanitarian Award, presented annually at the JUNO Awards, recognizes Canadian musicians whose ample efforts have left a positive social impact. Buffy Sainte-Marie exemplifies qualities of a humanitarian through her advocacy of protecting indigenous intellectual property and with her fight for indigenous artists and performers at the forefront of her activism.
Hailing from Saskatchewan, Buffy Sainte-Marie is much more than an iconic singer-songwriter; she is a multi-instrumentalist, social activist, educator, philanthropist, and visual artist. With a career spanning over 50 years, Sainte-Marie is celebrated for her thought-provoking lyrics and her passion for supporting Aboriginal people. Merging her activism for the Native American community and her passion for music, Sainte-Marie quickly became a well-known figure. She founded The Nihewan Foundation for Native American Education, a private non-profit foundation devoted to improving education and promoting awareness of Native American people and cultures. As a notable social activist, Sainte-Marie become increasingly well known for her anti-war peace anthem "Universal Soldier" which was inducted into the Canadian Songwriters Hall of Fame in 2005. As her musical career took flight her hit song "Starwalker," dedicated to the American Indian Movement, marked the first time Aboriginal and pop music were combined, creating a new genre.
Since releasing her first single in her early twenties, Sainte-Marie has had an array of achievements and awards including; an Academy Award, 4 JUNO Awards, a Golden Globe, the Governor General's Performing Arts Award, a BAFTA Award, multiple Queen's Jubilee Medals, Canadian Aboriginal Music Awards, induction into the Canadian Music Hall of Fame, induction into the Canadian Country Music Hall of Fame and a star on Canada's Walk of Fame!
Sainte-Marie's songs have been covered by hundreds of artists including Barbra Streisand, Neil Diamond, Elvis Presley, Glen Campbell, Céline Dion, Cher and Indigo Girls. She has been praised around the world for her unique platform that balances a life of song with a positive impact on social justice.
Buffy Sainte-Marie will receive her award at the 2017 JUNO Gala Dinner & Awards presented by SOCAN on Saturday, April 1, 2017 at the Shaw Centre in Ottawa, ON. We look forward to celebrating many other inspirational Canadian artists along with Sainte-Marie.
Congratulations and see you in Ottawa!
For more information on Buffy Sainte-Marie and the Allan Waters Humanitarian Award check out our Special Awards page.
Watch Buffy Sainte-Marie perform spoken word at The 2016 JUNO Awards in Calgary on JUNO TV!
Stay tuned for more exciting announcements!
---
How can you stay up to date on all things JUNOS?