Barenaked Ladies & Steven Page Welcomed into The Canadian Music Hall of Fame!
Mar 28, 2018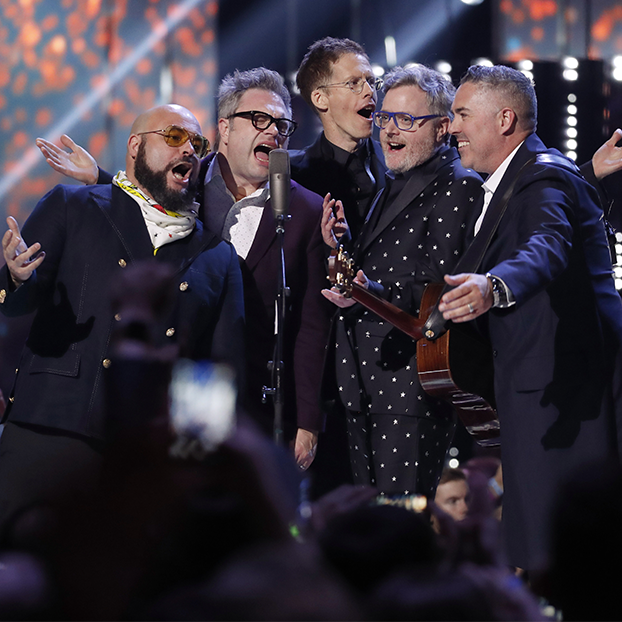 What a night!
After 30 years of hard work and hits, Barenaked Ladies alongside co-founder and singer-songwriter Steven Page were inducted into The Canadian Music Hall of Fame at The 2018 JUNO Awards. Missed the show? Watch the full broadcast here.
Got a little misty watching @stevenpage and @barenakedladies sing their way into the Canadian Music Hall of Fame tonight. Well done guys. #Junos2018 🇨🇦 @TheJUNOAwards

— Ryan Reynolds (@VancityReynolds) March 26, 2018
Ed Robertson, Jim Creeggan, Kevin Hearn, Tyler Stewart and Steven Page were welcomed into the Canadian Music Hall of Fame by fellow inductee (1994) and legendary rock icon Geddy Lee of Rush.
In what will be remembered as one of the most unique induction speeches in recent years, Robertson offered young musicians some words of encouragement, saying "To any kids out there with a dream, this can happen" before joining in a group song thanking friends, family, team members, fans, and Canada. Watch the entire speech below.
To celebrate the achievement, Barenaked Ladies and Page took the stage for a special one-time performance of "If I Had $1,000,000" with original member Andy Creegan and "One Week," joined by Jann Arden, Jim Cuddy, The Jerry Cans, City & Colour, Eric McCormack, Northern Touch Allstars and more.
Barenaked Ladies celebrate their 30th anniversary this year, marking three decades as legendary performers and one of Canada's most celebrated collectives, earning countless accolades including eight JUNO Awards, two Billboard Music Awards, and multiple Grammy nominations.