Barenaked Ladies & Steven Page Visit The Canadian Music Hall of Fame!
May 17, 2018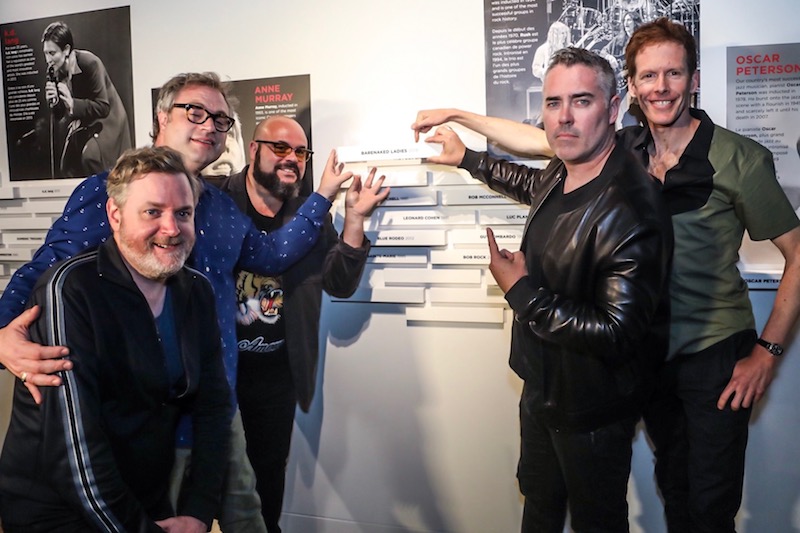 Following an unforgettable induction into the Canadian Music Hall of Fame at The 2018 JUNO Awards in Vancouver, the Barenaked Ladies alongside Steven Page arrived at Studio Bell – Home of the National Music Centre yesterday to place their name plaque on the wall and complete their induction!
The Barenaked Ladies' plaque now sits alongside other Canadian music legends like Blue Rodeo (2012), Rob McConnell (1997), Leonard Cohen (1991), Luc Plamondon (1999), Buffy Sainte-Marie (1995), and Bob Rock (2007).
To celebrate their induction, the NMC has launched Milestones: Barenaked Ladies, a temporary exhibit at Studio Bell that captures the band's career trajectory — from their first concert as teenagers at Toronto City Hall, to making history as the best-selling independent artists in Canadian history, their international breakthrough in the U.S., to the present day with their induction into the Canadian Music Hall of Fame, and their undeniable power as a live act for nearly 30 years and counting.
The exhibition features treasures from the band's founders, Ed Robertson and Steven Page, including early songbooks and lyric sheets, an acoustic guitar used by Robertson in the music video for "Falling for the First Time," and Page's 8-track cassette recorder used to make early demo tapes for "Jane" and "Old Apartment." The exhibition will also include an assortment of memorabilia from band members, such as behind-the-scenes photos from the band's formative years, press clippings, album artwork, and awards.
Barenaked Ladies celebrate their 30th anniversary this year, marking three decades as legendary performers and one of Canada's most celebrated collectives, earning countless accolades including eight JUNO Awards, two Billboard Music Awards, and multiple Grammy nominations.
You can visit the Milestones: Barenaked Ladies exhibit (May 17, 2018 until February 2019) alongside the physical Canadian Music Hall of Fame at Studio Bell in Calgary, AB.
Plan your visit at www.studiobell.ca.