ARCADE FIRE TO BE HONOURED WITH THE 2016 ALLAN WATERS HUMANITARIAN AWARD
Feb 24, 2016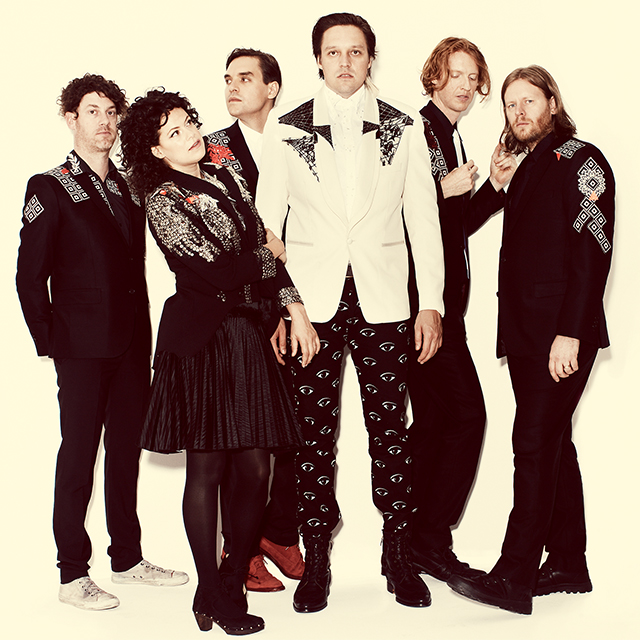 We are over the moon to announce this year's recipient of the Allan Waters Humanitarian Award sponsored by Bell Media (drumroll please)… Arcade Fire!
The Allan Waters Humanitarian Award recognizes outstanding Canadian artists whose contributions have positively enhanced the social fabric of Canada. Arcade Fire has demonstrated the spirit of the award time and time again through their charitable efforts in communities at home and abroad.
Hailing from Montréal, Québec, the six-piece indie rock band, led by the husband-wife duo of Win Butler and Régine Chassagne, has built an incredibly loyal fan base. Since forming in 2001, Arcade Fire has been recognized with eight JUNO Awards, two BRITs and one Grammy. But the energy they're known to bring during performances lives off stage as well.
Over the course of their careers, Win Butler, Régine Chassagne, Will Butler, Richard Reed Parry, Tim Kingsbury and Jeremy Gara of Arcade Fire have used their popularity and critical acclaim to help those in need. Their voice and platform shine a light on causes close to their hearts – one being the people of Haiti.
The members of Arcade Fire have developed long-term partnerships with organizations that help in breaking the cycle of poverty, giving Haitians the strength to stand up on their own. The band is constantly working to connect artists, causes and music fans to make a lasting impact.
And they don't just talk the talk. The band has traveled to Haiti several times to experience the nation's extreme poverty firsthand.
To date, Arcade Fire has not only raised and donated over $4 million, but has also trained thousands of outreach volunteers and engaged over 500,000 fans in the fight for the people of Haiti.
Arcade Fire will receive their award at the 2016 JUNO Gala Dinner & Awards on Saturday, April 2, 2016. We look forward to celebrating these inspirational Canadian artists.
Congratulations and see you in Calgary!
For more information, check out the full press release.
Stay tuned for more updates!
---
How can you stay up to date on all things JUNOS?