2018 Winners List: The JUNO Gala Dinner & Awards Presented by SOCAN
Mar 25, 2018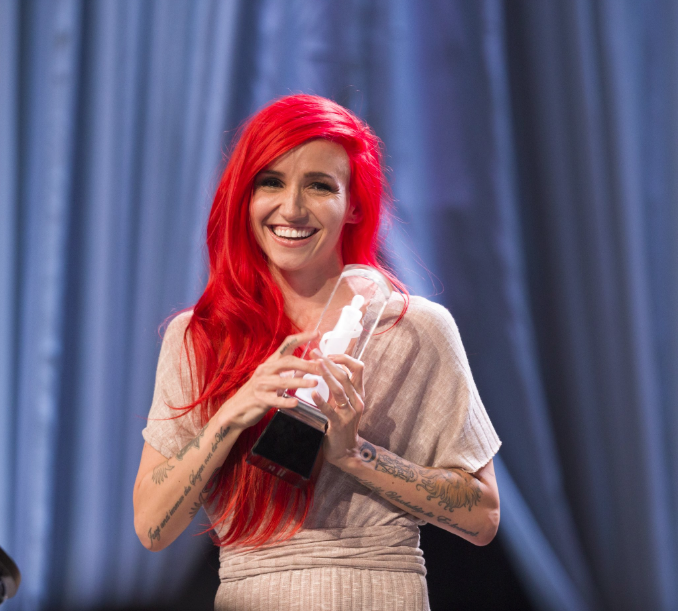 Last night, 36 JUNOS and 4 special awards were handed out at The 47th JUNO Gala Dinner & Awards Presented by SOCAN.
. @michaelbuble hosts @TheJUNOAwards tonight! ✨ Last night, he won a Juno Award for adult contemporary album of the year and shared a shoutout to @thebeaches. He talked about what really matters most as a #JUNOS nominee. pic.twitter.com/HbU2H898kf

— CBC Music (@CBCMusic) March 25, 2018
The evening, hosted by CBC q's Tom Power, featured performances by five of this year's nominees: Terra Lightfoot, James Barker Band, Iskwé, Clairmont the Second and 2018 Allan Slaight JUNO Master Class winners Caveboy.
.@isKwe delivers an ✨ amazing ✨ performance at The JUNO Gala Dinner & Awards Presented by @SOCANmusic! Watch the live stream now via @CBCMusic: https://t.co/hBgLYL0xA5 #JUNOS pic.twitter.com/1v65oMPCIE

— The JUNO Awards (@TheJUNOAwards) March 25, 2018
In case you missed it, you can rewatch the entire gala broadcast at cbcmusic.ca/junos, or on YouTube.
Here's a complete list of winners from last night's event:
---
Single Of The Year (Sponsored By Live Nation Canada)
There's Nothing Holdin' Me Back — Shawn Mendes
International Album Of The Year
DAMN. — Kendrick Lamar
Group Of The Year (Presented With Apple Music)
A Tribe Called Red
Breakthrough Group Of The Year (Sponsored By Factor, The Government Of Canada, And Canada's Private Radio Broadcasters)
The Beaches
Songwriter Of The Year (Presented By SOCAN)
Gord Downie & Kevin Drew
"A Natural", "Introduce Yerself", "The North" Introduce Yerself – Gord Downie
Country Album Of The Year
Game On – James Barker Band
Adult Alternative Album Of The Year
Introduce Yerself – Gord Downie
Alternative Album Of The Year (Sponsored By Long & Mcquade)
Antisocialites – Alvvays
Pop Album Of The Year
Skin & Earth – Lights
Rock Album Of The Year
Young Beauties And Fools – The Glorious Sons
Vocal Jazz Album Of The Year
Turn Up The Quiet – Diana Krall
Jazz Album Of The Year: Solo
Root Structure – Mike Downes
Jazz Album Of The Year: Group
The North – David Braid, Mike Murley, Anders Mogensen & Johnny Aman Addo
Instrumental Album Of The Year
Stubborn Persistent Illusions – Do Make Say Think
Francophone Album Of The Year
Paloma – Daniel Bélanger
Children's Album Of The Year
Hear The Music – Fred Penner
Classical Album Of The Year: Solo Or Chamber
Chopin Recital 3 – Janina Fialkowska
Classical Album Of The Year: Large Ensemble
Chopin: Works For Piano & Orchestra – Jan Lisiecki With Ndr Elbphilharmonie Orchester
Classical Album Of The Year: Vocal Or Choral
Crazy Girl Crazy – Barbara Hannigan With Ludwig Orchestra
Classical Composition Of The Year
My Name Is Amanda Todd – Jocelyn Morlock
Dance Recording Of The Year
Closer Ft. Laurell – Nick Fiorucci
Reggae Recording Of The Year
Greater – Kirk Diamond
Indigenous Music Album Of The Year (Sponsored By APTN)
Medicine Songs – Buffy Sainte-Marie
Contemporary Roots Album Of The Year
Bone On Bone – Bruce Cockburn
Traditional Roots Album Of The Year
Illusion & Doubt – The Dead South
Blues Album Of The Year
Time To Roll – Monkeyjunk
Contemporary Christian/Gospel Album Of The Year
First Day Of My Life – The Color
World Music Album Of The Year
Where The Galleon Sank – Kobo Town
Jack Richardson Producer Of The Year
"L-O-V-E", "Night And Day" (Co-Producer Tommy Lipuma) Turn Up The Quiet – Diana Krall
Diana Krall

Recording Engineer Of The Year
"Get You Ft. Kali Uchis", "We Find Love" Freudian – Daniel Caesar
Riley Bell
Album Artwork Of The Year
Marianne Collins (Art Director & Illustrator), Ian Ilavsky (Designer), Steve Farmer (Photographer) – Stubborn Persistent Illusions
Do Make Say Think
Video Of The Year (Sponsored By Stingray Music)
Venus Fly Ft. Janelle Monáe – Grimes
Grimes (Claire Boucher)
Electronic Album Of The Year
Mass Manipulation – Rezz
Metal/Hard Music Album Of The Year
Voice Of The Void – Anciients
Adult Contemporary Album Of The Year
Nobody But Me – Michael Bublé
Comedy Album Of The Year (Sponsored By Siriusxm Canada)
I Wanted To Be A Dinosaur – Ivan Decker
Humanitarian Award
Gary Slaight
International Achievement Award
Arcade Fire
Walt Grealis Special Achievement Award
Denise Donlon
MusiCounts Inspired Minds Ambassador
Jim Cuddy