2017 SOCAN Awards: Celebrating Canada's Top Songwriters
Jun 22, 2017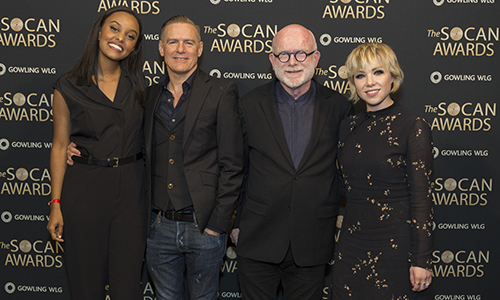 This week, some of Canada's top songwriting talent was honoured at The 2017 SOCAN Awards held in Toronto. The annual award show, celebrating the songwriters, composers and music publishers behind many of the world's biggest songs, featured performances and appearances by several past JUNO nominees including Carly Rae Jepsen, Shaun Frank with Delaney Jane, Jess Moskaluke, Ruth B and July Talk.
Bryan Adams and Jim Vallance, the legendary songwriting duo behind such hits as "Cuts Like a Knife," "Heaven" and "Summer of '69", were honoured with the SOCAN Lifetime Achievement Award for more than 35 years of songwriting success in the Canadian and International music industry.
Andy Kim was presented with The SOCAN Cultural Impact Award for the 1969 hit "Sugar, Sugar," a song that spent four weeks at #1, was crowned the 1969 "Record of the Year," and currently remains on the Billboard all-time Hot 100 greatest pop singles (no. 73). Three-time JUNO winner Ron Sexsmith later performed a charming rendition of the hit song in tribute.
Two-time JUNO winners Hedley received the National Achievement Award, while JUNO nominee Paul "Nineteen85" Jefferies received the Songwriter of the Year Award for his work with six-time JUNO winner Drake ("One Dance," "Hotline Bling," and "Too Good" featuring Rihanna). Watch his backstage interview with SOCAN below.   
For a full list of 2017 SOCAN winners, visit www.socan.ca.