Winter Fun at The Forks! #WinnipegWednesday
Jan 22, 2014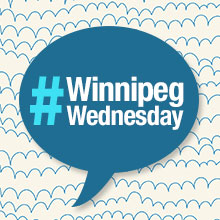 Winter at The Forks is a rite of passage.
It's not truly winter until the Zamboni hits the ice and hundreds of locals strap on their skates on a sunny Saturday afternoon to cruise down the rivertrail, greeting friends, marveling at the current year's crop of innovative warming huts and then stopping in for a hot chocolate inside the Market.
On Sundays, stop into Arctic Glacier Winter Park (appropriately dubbed, to be sure) for free horse drawn wagon rides. Then, join aboriginal elders in making bannock and traditional art inside a teepee, and finally, strap on your snowboard and get some tips from the pros at the snowboard run.
If you're more of an indoors sort of dweller, then head inside The Forks Market and Johnston Terminal where you can pick up local art, gourmet treats and indulge in a vast array of culinary offerings from around the world.  Book a romantic table for two at Sydney's, where wide windows offer views of the action on the river as you clink your Merlot-filled crystal.
Stop into the Hartmont Candle Company where candles made on site come in a variety of clever fragrances like Sea Salt Caramel and Grandpa's Den. If you've got the kids in tow, head up to Kite and Kaboodle for a treasure trove of toys, games and things that will make them go, 'I want that!'
In just a few days, The Forks also becomes home to the city's chicest restaurant, RAW:almond. Look for the tent sitting directly on the frozen river as it plays host to the city's top chefs for three weeks of gourmet dining in one of the wildest and most memorable settings you'll ever experience. On the weekends, brunch is served and keep an eye out for some big names and celebrity chefs from across Canada who are stopping in for a visit.
One of the highlights of a trip to the rivertrail is the annual warming hut competition where architects from around the world are invited to compete in an all out battle for ice domination. (It may only be a little less intense than that.)
Each year, the result is something to behold. Whimsical creations like a giant pair of pants dangling from the sky and a glowing orb covered in pool noodles await thousands of smiling visitors to Winnipeg's winter playground. The huts hit the ice starting January 25.
Written by Nisha Tuli – Tourism Winnipeg
[imagebrowser id=26]
__________________________________________________________________________________
Last week, we asked our followers on Twitter what they do for fun in Winnipeg.  Here's what they had to say:
@TheMaxinePeters @Winnipegfolk @TheJUNOAwards eat at Unburger & drink at the whiskey bar at The Toad 🙂 #winnipegwednesday
@jen080808 @TheJUNOAwards #FunTimes #Kungfugirl doing Kung fu on #WinnipegWednesday
This week:
Tell us your favourite Winnipeg sports team!
Tweet us @TheJUNOAwards and hashtag #WinnipegWednesday and your response may be featured in next week's blog!