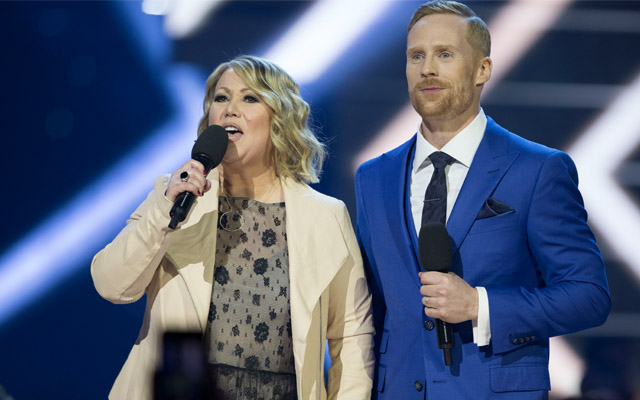 Ticket Information
Find tickets to JUNO-related events including lead-up, host committee, and JUNO Week events, including The 2017 JUNO Awards broadcast.
Sunday, April 2, 2017 
The 46th annual JUNO Awards will be broadcast on CTV from the Canadian Tire Centre on Sunday, April 2, 2017. Tickets are available starting at $39 through the Canadian Tire Centre Box Office, by phone at 1-877-788-3267 and online at ticketmaster.ca.
Ticketmaster.ca
---
JUNO Week Events
Thursday, March 30, 2017
JUNO Cup Jam is a night of fun musical collaborations and covers to kick-off JUNO Weekend at The Bourbon Room in Ottawa. The event features performances by JUNO Cup players with all ticket proceeds benefiting MusiCounts. Tickets are available online through www.ticketfly.com.
Get Tickets
Friday, March 31, 2017
JUNO Cup is a celebrity fundraising hockey game in support of MusiCounts, Canada's music education charity associated with CARAS. Tickets are available online through the TD Place website: www.tdplace.ca.
Get Tickets
Friday, March 31 & Saturday, April 1, 2017
JUNOfest is a two-night music festival featuring 100+ artists playing on stages in more than 15 venues across Ottawa on Friday, March 31 and Saturday, April 1 as part of the 2017 JUNO Week.
JUNOfest wristbands are available to purchase for $30 (plus tax and service fees) at www.ticketfly.com.
Wristbands provide priority access to all venues participating in JUNOfest for both nights. Single show tickets will also be available for purchase in advance or at the door, but are subject to space and availability.
Get Tickets
Saturday, April 1, 2017 
CARAS/The JUNO Awards have partnered with KIDSFEST Ottawa, the city's biggest and best kids show and expo, to showcase the amazing talent of the 2017 Children's Album of the Year Nominees. Tickets to Junior JUNOS are available through www.kidsfestottawa.ca!
Get Tickets