Rocking the House: Music and Curling #WinnipegWednesday
Jan 29, 2014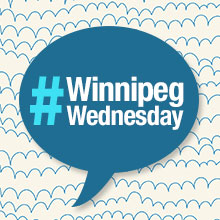 Winnipeg has no shortage of cold weather activities to keep people warm during the long winter months, from hockey to cross country skiing to a good old fashioned skate along the river trail. But it's the graceful, honest sport of curling that is starting to win a place in the heart of many Manitoba musicians.
Curling, in which two teams of four players slide polished granite stones (or "rocks") across a sheet of ice towards a target area to accumulate the highest score, is a strategic game that has earned the nickname of "chess on ice".
It has a storied history in Manitoba, with beloved clubs throughout Winnipeg and beyond the city's perimeter. Curling clubs have been an important social hub for communities, bringing together friends and families for sport, food, drink, and fun for generations.
You might think that curling and music don't go together but you'd be wrong: curling rocks!
Internationally-acclaimed singer/songwriter John K. Samson has been known to rock the house both on stage and on ice. His band, JUNO-nominated The Weakerthans, has even featured a song and video, "Tournament of Hearts", about the sport.
This year, Samson helped to establish the eight-team "Arts & Letters" league, comprised of musicians, artists, cultural workers, and supporters. Samson is quick to point out that it is a mixed beginners' league with a friendly competition. Meeting every Saturday, the league offers curlers some focus during the winter months, and something to look forward to every week.
"It's probably the most genial sport," says Samson of the connection between music and curling. "It's a team sport where you're building upon what your team members make. Both blame and glory is spread evenly amongst the entire team. It's a nice analogy to what a band does on stage. You build or fall on what everyone else makes on stage in a creative way."
Manitoba's music industry has been rocking the house for charity in the Manitoba Music Rocks Charity Bonspiel. Organized by Manitoba Music and Manitoba Film & Music, the annual event raises funds and awareness for the Unison Benevolent Fund  in a fun, grassroots way. Over 140 curlers will take to the ice on February 2 for the fourth annual event at Winnipeg's historic Granite Curling Club. Leading up to each bonspiel, Breakfast Television Winnipeg has produced award-winning videos featuring musicians and curling, including Samson, Comeback Kid's Jeremy Hiebert, JP Hoe, and more!  Click here to watch.
While some might find the sport a little weird and old fashioned, it's definitely gaining fans in the music community.
"It's one of those sports that once people play it, they begin to understand and appreciate it," says Samson, who has curled in the bonspiel with the team Curl Jam.
And just like music, "it's a collaborative game."
Written by Rachel Stone – Manitoba Music
[youtube]
http://youtu.be/xQF5xuLrjpY
[/youtube] [youtube]
http://youtu.be/3Un9n8zMCEI
[/youtube] [youtube]
http://youtu.be/YqBQDQlkT8k
[/youtube] [youtube]
http://youtu.be/vIthxjthW44
[/youtube]
_________________________________________________________________________________
Last week, we asked our followers on Twitter to tell us their favourite Winnipeg sports team.  Here's what they had to say:
@justGnargles @TheJUNOAwards #winnipegwednesday Obviously the winnipeg jets, lolol
@BrianCook_WHY @TheJUNOAwards THE WINNIPEG JETS!!! #GoJETSGo @NHLJets @WHY_music
@davidalpert @Winnipegfolk @TheJUNOAwards favourite #Winnipeg sports team has to be the reborn @NHLJets #winnipegwednesday