It's ROCK vs JOCK at JUNO Cup 2018!
Feb 02, 2018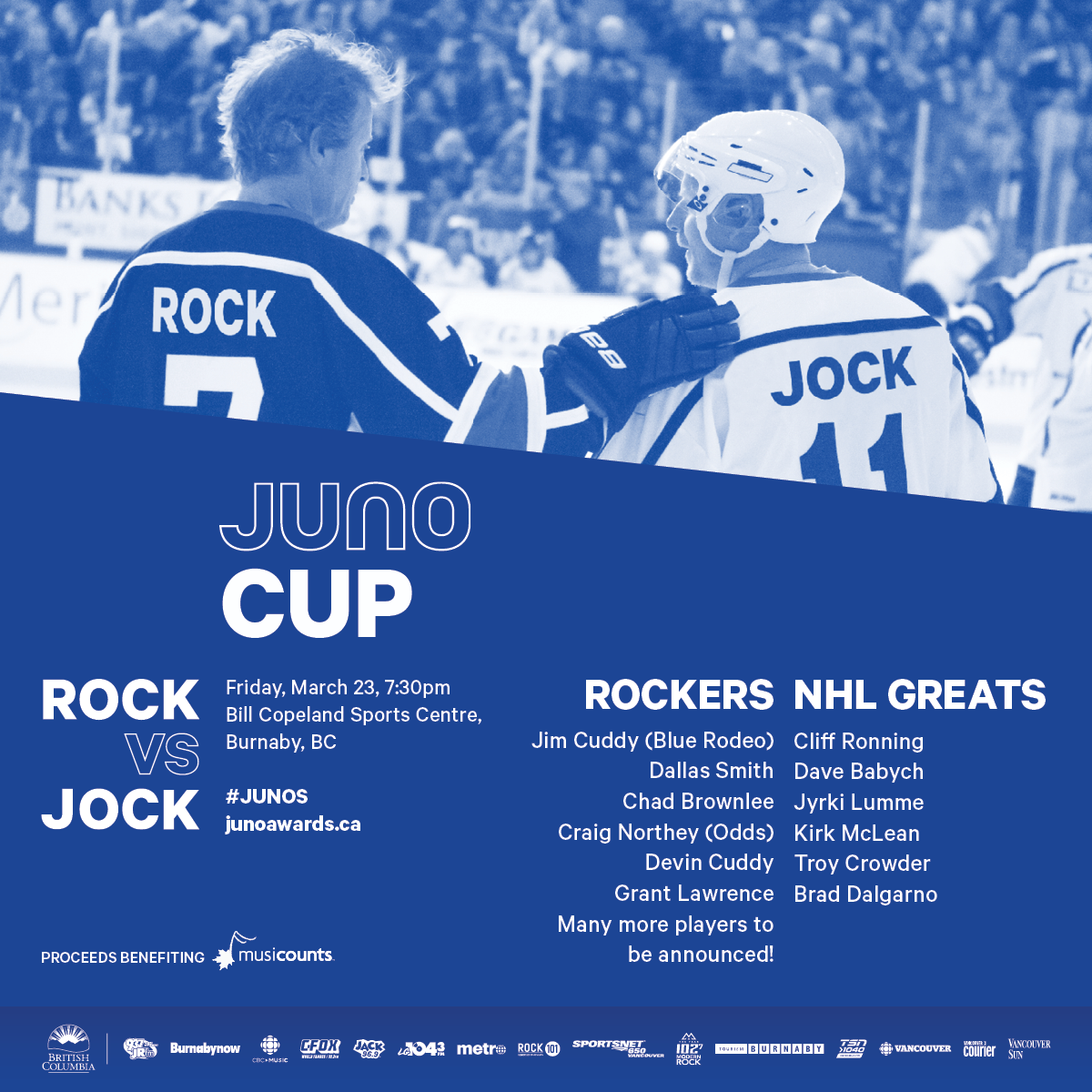 Once again hockey and music come together for MusiCounts as Canadian music icons face off against NHL legends at the annual JUNO Cup celebrity hockey game! The puck drops at 7:30 PT on Friday, March 23 at Bill Copeland Sports Centre in Burnaby, BC.
The game will feature former NHL legends Cliff Ronning, Dave Babych, Jyrki Lumme, Kirk McLean, Troy Crowder and Brad Dalgarno. They will be up against Canadian music greats Jim Cuddy (Blue Rodeo), Dallas Smith, Chad Brownlee, Devin Cuddy, Craig Northey (Odds) and Grant Lawrence (The Smugglers, CBC Music). With more players being announced in the following weeks to complete the team rosters!
MusiCounts is Canada's music education charity associated with the CARAS and the JUNO Awards. MusiCounts works to keep music alive in schools and communities across Canada by putting musical instruments into the hands of children that need them most. Their mission is to ensure that youth in Canada have access to music programs in their schools and communities. Held annually during JUNO Week the JUNO Cup game has raised $840,000 for MusiCounts over the last 14 years!
via GIPHY – He shoots, Bassist John Gallant of Billy Talent scores!
Ready for the game? Individual tickets to the JUNO Cup are priced at $20 + fees. Tickets are available through www.ticketmaster.ca. When purchasing 10 or more, tickets are $15 (plus fees), with all proceeds benefiting MusiCounts.