Pay Tribute to Bachman-Turner Overdrive! #JUNOTribute
Feb 12, 2014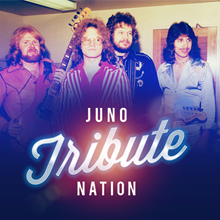 Bachman-Turner Overdrive are the 2014 Canadian Music Hall of Fame Inductees!  During their most explosive period between 1973 and '79, BTO electrified the world with chart-topping rock 'n' roll hits like "You Ain't Seen Nothing Yet" and "Takin' Care of Business."  During this era, the longest-serving members of the band were Blair Thornton, Fred Turner, Randy Bachman, and Robin Bachman.
"It couldn't be more fitting that we honour them in their hometown of Winnipeg at the 2014 JUNO Awards," says Melanie Berry, President & CEO, CARAS/The JUNO Awards.  "Congratulations!"
Now, it's your turn to honour Bachman-Turner Overdrive!
All you've got to do is submit a video to www.junotribute.ca, and your video performance could be aired on The 2014 JUNO Awards Broadcast!
To be a part of this nationwide JUNO Tribute to BTO, you can:
DANCE: Show off Your Dance Skills! Record a video of you dancing with your webcam

SING: Knock It Out Karaoke-Style! Record a video of you singing with your webcam

UPLOAD: How You Take Care of Business! Upload a video from your computer or mobile device showing how BTO inspires you to "Take Care of Business".
For more information, visit www.junotribute.ca!
[youtube]http://www.youtube.com/watch?v=6gSZgc5Kaas[/youtube]