Mother Mother takes over JUNO TV!
Oct 22, 2013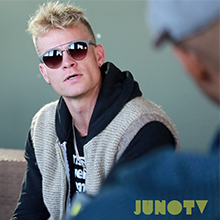 Want exclusive and original content featuring Canada's favourite artists and iconic archival footage?  Tune in to JUNO TV for an experience like no other!
This week on JUNO TV:
Mother Mother talks music with JUNO TV!
Ryan Guldemond and Jasmin Parkin of two-time JUNO Award nominees Mother Mother sit down with JUNO TV host StokeS to talk music.
Put in the hot seat, Guldemond and Parkin share what they're currently listening to, the first concerts they attended, their first CDs (actually, cassette tapes), and their guilty listening pleasures!
Congratulations to Mother Mother on their recent win at the 2013 Edge CASBYs for Favourite New Record!
Check out all this and more on JUNO TV! New videos every Tuesday!  www.JUNOTV.ca
Follow us on Twitter!  @TheJUNOAwards #JUNOAwards #JUNOTV
Follow us on Instagram!  @TheJUNOAwards
Like us on Facebook!  Facebook.com/TheJUNOAwards