JUNO TV is HERE!
Jan 29, 2013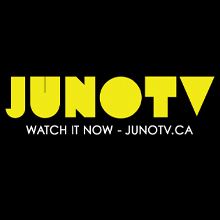 JUNO TV gives you the inside look into the lives of your favourite JUNO musicians, experts in the business and a trip down memory lane from past JUNO Awards. Every Tuesday starting TODAY there will be a new video released from each JUNO TV channel: Stranded, Take Two, The Experts and Vintage Vids. Stranded, will give you an inside look of a JUNO artist's life on tour and the 5 things that they can't live without. Take Two, will show memorable JUNO moments with the iconic artist who lived them. The Experts, you will hear first-hand stories and candid insight from Canada's biggest decision makers and innovators in the entertainment industry. Vintage Vids, will take you down memory lane from past JUNO performances and iconic on stage moments.
In addition, to keep you up to date on JUNO events there will be further coverage in Extras, where you will be able to see highlights from the Nominee Press Conference, JUNO Hype Reels and JUNO Week coverage in Regina.
We can't forget about the man behind the lens, we were so lucky to have the award winning, Ben Knechtel to film for JUNO TV. He is best known for directing Carly Rae Jepsen's ever so popular "Call Me Maybe" music video; which led him to win an MMVA for Video of the Year in 2012.
TUNE IN TO JUNO TV NOW by clicking www.junotv.ca.
Check our twitter @TheJUNOAwards for updates.