Hedley talks music on JUNO TV!
Jan 23, 2014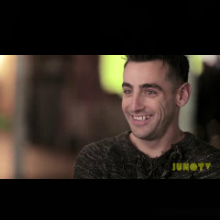 Want exclusive and original content featuring Canada's favourite celebs and iconic archival footage?  Tune in to JUNO TV for an experience like no other!
This week on JUNO TV:
Two-time JUNO Award winners Hedley chat with us on set in an exclusive interview!
Hedley fills us in on the first albums they ever purchased, and talks about the artists currently dominating their playlists!  Guilty music pleasures?!  JUNO TV gets the scoop!  Curious to find out who still uses a cassette player? Be one of the first to find out!
Check out all this and more on JUNO TV! New videos every Tuesday!  www.JUNOTV.ca
Follow us on Twitter!  @TheJUNOAwards #JUNOAwards #JUNOTV
Follow us on Instagram!  @TheJUNOAwards
Like us on Facebook!  Facebook.com/TheJUNOAwards