Hedley: Behind the Scenes of "Crazy For You"
Feb 25, 2014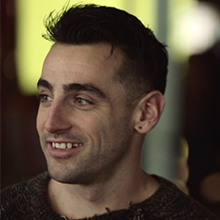 JUNO TV host StokeS goes behind the scenes with two time JUNO Award winners Hedley!
StokeS joins Hedley on set of the band's newest video, "Crazy For You", for an interview that shares a lot about the #WildLife rockers.  Jacob Hoggard describes the concept of the song, and why it fits perfectly with the "hyper stylized mental asylum" the band is trying to escape in the video!  Is the meaning behind the song personal?  We find out!
What would Jacob and Dave Rosin be doing if not in Hedley?    What hash tags best describe them?  How often are they tweeting? Fans, find out in this exclusive interview!