Festival du Voyageur #WinnipegWednesday
Feb 12, 2014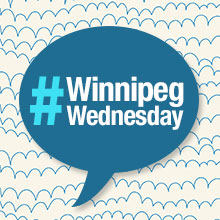 One of Manitoba's greatest gems is the neighbourhood of St. Boniface, Winnipeg's French Quarter! Once you cross the picturesque Esplanade Riel bridge, take a stroll down Provencher Boulevard, and stop by the lovely shops and restaurants such as Café Postal, Le Garage, Bijou and the Boulevard's newest addition, Chocolatier Constance Popp.
St. Boniface is also home to Western Canada's largest winter festival, Festival du Voyageur! This year we celebrate the festival's 45th edition, from February 14-23. So bundle up, tighten your ceinture fléchée and head outdoors for 10 days of celebration packed with winter fun, delightful food, and fantastic music! Hé Ho!
WHAT TO EAT
From meaty pieces of tourtière to hearty bowls of soupe aux pois, the French-Canadian comfort food staples offered at Festival du Voyageur are sure to fill you up for the day! Don't miss out on the Pea Soup Competition–your chance to taste different pea soup recipes from local restaurants, including Osborne Village Café, Promenade Café and Wine, and Resto Gare.  Another incontournable is the maple taffy on a stick, a real treat for those with a sweet tooth. Bon appétit!
WHAT TO SEE
Admire the spectacular snow sculptures created in Voyageur Park by artists hailing from 10 different countries around the globe, including France, Estonia, and Colombia. These winter wonders made from 12-foot blocks of snow are always one of the highlights of the festival.
Enter the gates of Fort Gibraltar and be transported back in time to 1815! Meet colourful characters such as the North West Company clerk and be mesmerized by traditional craftsmen, like the blacksmith and the carpenter, while they practice their trades.
A new addition to this year's celebrations is the Rendez-vous on Ice, an official festival site located on the Red River Mutual Trail where the Red and Assiniboine rivers meet. Catch the first edition of Fashion on Ice, an outdoor fashion show presenting à la mode winter looks by local retailers and fashion designers.
WHAT TO HEAR
More than 130 artists are part of the lineup this year including Royal Canoe, The Bros. Landreth, Vincent Vallières, and Yves Lambert Trio.  Mark your calendars for a special JUNO francophone showcase on Friday, February 22nd featuring homegrown talent Dugas and 2007 JUNO Award winner Antoine Gratton.
For more information, visit www.heho.ca
Written by: Irina Ivanov Bissonnette – Festival du Voyageur
[imagebrowser id=27]