JUNOfest Presented by CBCMusic.ca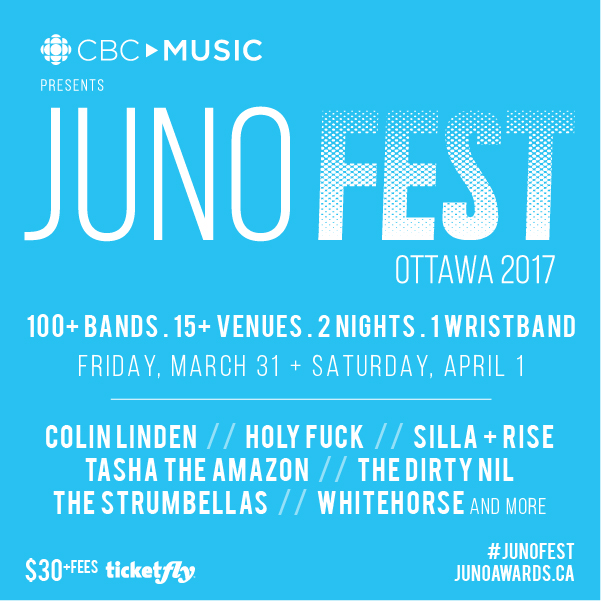 March 31, 2017 - April 1, 2017
Various Venues Across Ottawa
Ottawa, ON, Canada
View Google Map
Over 100 artists set to participate in JUNOfest, JUNO Week's two-night music festival presented by CBC Music
JUNOfest is a two-night music festival featuring 100+ artists playing on stages in more than 15 venues across Ottawa on Friday, March 31 and Saturday, April 1 as part of the 2017 JUNO Week.
This year's lineup features more than 35 JUNO nominees, including The Strumbellas, Silla + Rise, The Dirty Nil, Whitehorse, Tasha The Amazon, Holy Fuck, Bit Funk, Cold Creek County, Exco Levi, and more!
See JUNOfest Schedule
JUNOfest is produced by Shawn Scallen/Spectrasonic.
Ticket Information
JUNOfest wristbands are available to purchase for $30 (plus tax and service fees) at www.ticketfly.com. 
Wristbands provide priority access to all venues participating in JUNOfest for both nights. Single show tickets will also be available for purchase in advance or at the door, but are subject to space and availability.
Ticketfly.com
---
Promotional Partners
boom 99.7, CBC Ottawa, CTV Ottawa, Énergie 104.1, Le Droit, MAJIC 100, Metro News, Ottawa Citizen, Ottawa's New Country 94, Pattison Outdoor Advertising and Rouge 94,9.