JUNO House: R·Evolutions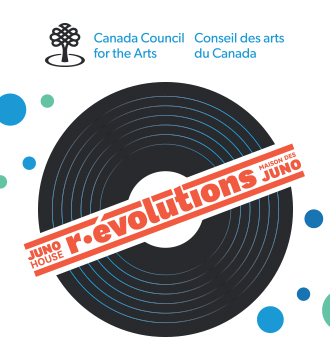 March 11, 2017 - August 31, 2017
Canada Council for the Arts, Âjagemô exhibition space
150 Elgin Street, Ottawa, ON, Canada
View Google Map
JUNO House: R·Evolutions, curated by journalist and musicologist Allan Wigney, will offer the public a unique opportunity to experience the story of Canadian music inspiration to creation to recognition. Joni Mitchell's artwork, k.d. lang's "wedding dress", Drake's running shoes and more will share the space with artwork from Canada Council's Art Bank, pieces from the National Music Centre and JUNO Awards memorabilia.
"To the determined but financially challenged creative spirit, the Canada Council for the Arts can be life's blood. For 60 years, the Canada Council has been champion and cheerleader. This year, grants will be presented to thousands of artists, groups and organizations who in turn will bring to Canadians a trove of artistic riches.
These walls sing of those riches – of romantics, rebels and revolutionaries. Of arena headliners and bands playing at a club near you. Of artistic triumph and JUNO glory." – Allan Wigney, curator
JUNO House: R·Evolutions runs from March 11 to August 31, 2017. Free admission
Artists represented include: Leonard Cohen, kd lang, Drake, Alanis Morissette, Bruce Cockburn, Susan Aglukark, Tanya Tagaq, Buffy Sainte-Marie, Arcade Fire, Serena Ryder, Geddy Lee (Rush), Robert Charlebois, Neil Young, K-Os, Joni Mitchell, Kid Koala and Blue Rodeo, Tom Cochrane, Anne Murray and more.