JUNO Cup presented by TD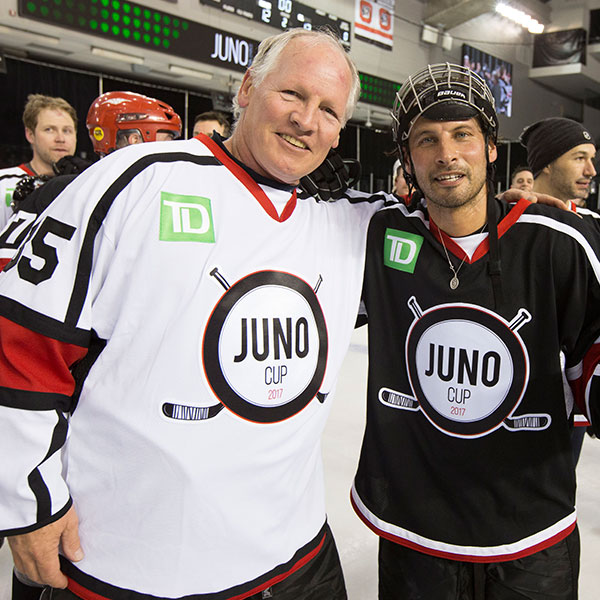 March 31, 2017
TD Place
TD Place, Bank Street, Ottawa, ON, Canada
View Google Map
Presented by TD
In Support of MusiCounts
Two of Canada's favourite pastimes, hockey and music, came together for an all-out clash of the titans during JUNO Cup 2017 Presented by TD, a celebrity hockey game in support of MusiCounts.
Former-NHLers Team Roster:
Brad Dalgarno (New York Islanders), Brendan Bell (Ottawa Senators), Chris Phillips (Ottawa Senators), Daniel Alfredsson (Ottawa Senators), Gary Roberts (Toronto Maple Leafs), Jim Kyte (Winnipeg Jets, Ottawa Senators), Luke Richardson (Ottawa Senators), Mark Napier (Montréal Canadiens, Edmonton Oilers), Paul Coffey (Edmonton Oilers, Pittsburgh Penguins) and Troy Crowder (New Jersey Devils). This year's team coach was Grey Cup Champion Henry Burris from the Ottawa Redblacks.  
Musical Greats Team Roster:
Aaron Pritchett, Adrian Sutherland (Midnight Shine), Amanda Rheaume , Barney Bentall, Beard Guy (Walk Off The Earth), Chad Brownlee, Cosmo Ferraro (Ferraro), Dallas Smith, Darryl James (The Strumbellas), Devin Cuddy (Devin Cuddy Band), Doug Oliver (Cold Creek County), Gord Bamford, Jay Bodner (Eagle & Hawk), Jim Bowskill (Blue Rodeo/The Sheepdogs), Jim Cuddy (Blue Rodeo), Jon Gallant (Billy Talent), Jonathan Roy, Kathleen Edwards, Matthew Barber, Matt Sobb (MonkeyJunk), Sam Roberts, Steve Marriner (MonkeyJunk) and Vince Fontaine (Eagle & Hawk).  Coached by Legendary Ottawa 67's bench boss, Brian "Killer" Kilrea.
View images from JUNO Cup 2017.
---
Promotional Partners:
92.3 JACK FM, 106.1 CHEZ, 580 CFRA, 1310NEWS, boom 99.7, CBC Ottawa, Le Droit, Metro News, Ottawa Citizen, Ottawa's New Country 94, Pattison Outdoor and TSN 1200.