JUNO Cup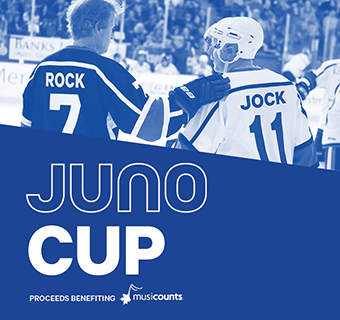 March 23, 2018
7:30 p.m. PT
Bill Copeland Sports Centre
Bill Copeland Sports Centre, Burnaby, BC, Canada
View Google Map
Ticket Information
JUNO Cup tickets are available at Ticketmaster. Individual tickets to JUNO Cup are priced at $20 + fees.
Please note, $15 tickets (plus fees) are available when purchasing 10 or more, with all proceeds benefiting MusiCounts.
Visit Ticketmaster.ca
Canadian music icons will be going head to head with NHL legends at the 2018 JUNO Cup at 7:30 p.m. PT on Friday, March 23 at Bill Copeland Sports Centre, in Burnaby, BC, in support of MusiCounts.
Featuring former Hockey legends Dave Babych, Kirk McLean, Cliff Ronning, Brad Dalgarno and Troy Crowder, and musicians Jim Cuddy (Blue Rodeo), Dallas Smith, Chad Brownlee, Devin Cuddy, Craig Northey (Odds) and Grant Lawrence.
Stay tuned for additional announcements!
---
Proudly supported by the Province of British Columbia
Promotional Partners: 93.7 JRfm, 102.7 THE PEAK, Burnaby Now, CBC Music, CBC Vancouver, CFOX, JACK 96.9, LG104.3, Metro News, Rock 101, Sportsnet650, Tourism Burnaby, TSN 1040, Vancouver Courier, Vancouver Sun