Classified, Johnny Reid and Serena Ryder to Co-Host The 2014 JUNO Awards
Mar 04, 2014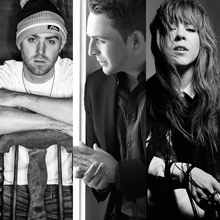 Three platinum-selling artists to host The 2014 JUNO Awards?  Yes, please!
We are so excited for co-hosts Classified, Johnny Reid, and Serena Ryder to take the stage on March 30 in Winnipeg, Manitoba to host Canada's biggest night in music!
Classified, the 2013 JUNO Award winner for Rap Recording of the Year, is once again up for the award, as well as Single of the Year.
Three-time JUNO Award winner Johnny Reid is in the running for Adult Contemporary Album of the Year, and four-time JUNO Award winner Serena Ryder is up for five nominations, including JUNO Fan Choice Award (Presented by TD), Single of the Year, Album of the Year (Sponsored by Music Canada), Artist of the Year, and Songwriter of the Year (Sponsored by SiriusXM Canada)!
Hailing from Nova Scotia and Ontario respectively, Classified and Serena Ryder's diverse genres of music will unite as they open the show with a special performance together!  Johnny Reid, who has shared some great stories about Winnipeg on JUNO TV, says he's honoured to be co-hosting with both of his talented peers.
With an awesome line up consisting of Brett Kissel, Dean Brody, Gord Bamford, Matt Mays, Robin Thicke, The Sheepdogs, Tegan and Sara, and Walk Off The Earth, our co-hosts are sure to get the party started—and keep it going—all through the broadcast!
Tickets are available at Ticketmaster.ca.
The 2014 JUNO Awards airs live from the MTS Centre in Winnipeg on CTV and CTV GO on Sunday, March 30 at 8:00 PM CT/9:00 PM ET in Manitoba and all markets East, and at 9:00 PM locally in all markets West of Manitoba.