Cabbie Richards of TSN talks to JUNO TV!
Jan 30, 2014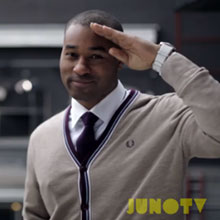 Attention sports fans! JUNO TV get up close and personal with TSN sports personality, Cabral "Cabbie" Richards!
Cabbie fills us in on some things his fans may not know about him, shares a hilarious moment with Mike Tyson, and tells us if he's a Leafs fan, or Raptors fan!   Which hashtag best describes Cabbie?  He tells us!   Watch Cabbie's exclusive interview here!
Check out all this and more on JUNO TV! New videos weekly |  www.JUNOTV.ca
Follow us on Twitter |  @TheJUNOAwards #JUNOAwards #JUNOTV
Follow us on Instagram |  @TheJUNOAwards
Like us on Facebook |  Facebook.com/TheJUNOAwards