National Arts Centre
Contemporary Roots Album of the Year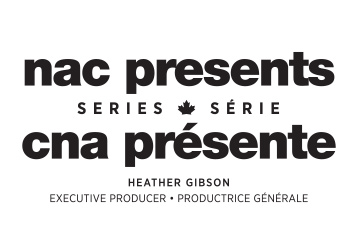 The NAC Presents series is proud to be the home for Canadian musicians on the national stage at Canada's National Arts Centre in Ottawa. Over the six years the series has been in existence we have presented hundreds of Canada's most creative artists in all musical genres, both emerging and established, in all four of our performance venues.

The NAC Presents series is dedicated to working with artists to further their careers and grow from our smaller venues through to the largest ones. We're thrilled that many of the artists we've presented over the last six years are being honoured at the JUNOS and can be seen regularly touring both nationally and internationally.
It is immensely rewarding for NAC Presents to be presenting Contemporary Roots Album of the Year at the 2017 JUNO Awards and we congratulate all the nominees. We don't just say it, we mean it: We love Canadian music!
---
La série CNA Présente est fière d'offrir une vitrine nationale aux musiciens canadiens en les invitant à se produire au Centre national des Arts à Ottawa. Depuis la création de la série, il y a six ans, des centaines des plus brillants artistes d'ici, de la relève ou établis, ont fait résonner toute la gamme des genres musicaux dans nos quatre salles.
La série CNA Présente vise à aider les artistes à développer leurs carrières et à se faire connaître. Nous sommes ravis de voir que bon nombre de ceux et celles que nous avons accueillis au cours des six dernières années sont finalistes aux prix Juno et partent régulièrement en tournée au Canada et à l'étranger.
Il est extrêmement gratifiant pour nous de présenter le prix de l'album de musique roots contemporaine de l'année aux prix Juno 2017. Félicitations à tous les finalistes! Plus que jamais, nous sommes fiers d'être au cœur de la musique d'ici.