FACTOR, the Government of Canada and of Canada's Private Radio Broadcasters, and Radio Starmaker Fund
Breakthrough Group of the Year & Breakthrough Artist of the Year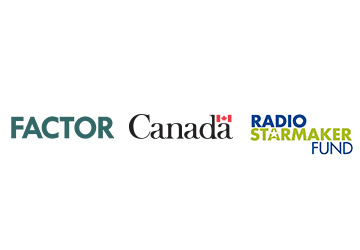 Each year, FACTOR and the Radio Starmaker Fund co-sponsor the JUNO Awards as Premier Partners. On behalf of the Board of Directors of FACTOR, the Board of Directors of the Radio Starmaker Fund and the staff of both organizations, we would like to extend our congratulations to the artists nominated today for JUNO Awards in all genres and specialties.
Canada's music industry is built on a unique partnership amongst private and public participants. We are fortunate that over 30 years ago, the founders of this system had the foresight to put this framework in place, and it continues to serve Canadian musical artists today. We thank the Government of Canada, the Department of Canadian Heritage and Canada's private broadcasters for their continued support.  
As the music industry grows and diversifies its business models, it has become increasingly important for Canadian artists to have the financial support necessary to create their unique recordings and to participate fully in the marketplace both domestic and foreign. Sometimes talent, which we have in abundance, just isn't sufficient to launch a successful career. We hope that our assistance in some small measure has allowed our artists to accelerate their careers and compete on a worldwide stage. Many of the artists that are in nomination today have benefitted from that assistance.
Of course, the biggest winners in all of this are Canadian music fans who, either at the JUNOS or elsewhere in Canada, can experience some of the most diverse and innovative music in the world.  
Once again congratulations to the nominees. Best of luck to all.