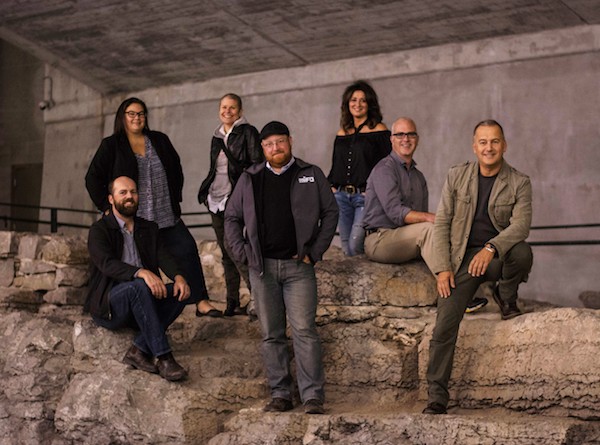 Ottawa 2017 Host Committee from left to right, back row: Nathalie Carrier, Erin Benjamin, Carole Saad, Jeff Leiper; front row: Jon Bartlett, Patrick Bourbonnais, Guy Laflamme.
In 2017, our country is turning 150 and it's a sure bet that "Oh Canada" will be one of the most heralded songs of the year. It's a powerful anthem with deep meaning for Canadians and one that stirs emotions and pride. But what about the modern-day Canadian music scene? Which tunes will resonate with people across the country? Who are the artists and what are the songs that will capture the imaginations of Canadians as we blow out those birthday candles?
What I love about the JUNO Awards, and why I'm so thrilled to welcome the 2017 edition to Ottawa, is that they seek to answer those questions. They shine a giant spotlight on the Canadian music industry and tap into what's inspiring Canadian music fans from coast to coast.
Music is a reflection of who we are as a people, where we've come from and where we aspire to go. If ever there was a year to celebrate Canadian music and showcase what draws us together as a country, it's next year during Canada's sesquicentennial anniversary.
What's more, as the capital of Canada, Ottawa's going to be the epi-centre of the year-long party, boosting the voltage to that giant spotlight even more.
We've got twelve months of edgy, innovative celebrations planned and the 2017 JUNO Awards will be a blockbuster recognition of Canadian culture and a high point of Canada's 150th year.
Ottawa is on the cusp of a transformative year. Our whole country is. We're building on Canada's "cool factor" with a renewed, refreshing image of who we are. On the international scene, our Prime Minister, Justin Trudeau is leading the way, and we at #Ottawa2017 and our Mayor Jim Watson are keeping step to ensure that Ottawa, our nation's capital, shines brightly as we welcome Canadians and visitors from all over the world.
Next year will be about celebrating our past and igniting our future. It will be about sharing. Sharing our stories and values. Sharing our culture and experiences. Sharing our hopes and dreams for the future and sparking the imagination of a generation with memories that will last a lifetime.
And, of course, all of that will transpire through sharing our music.
So, as the proud Chair, for a third time, of Ottawa's JUNO Host Committee, I can tell you that we're committed to planning a phenomenal JUNO Week in collaboration with CARAS. On behalf of the entire team, we invite you to come to Ottawa in March 2017 and help us to blow out the candles on a monumental year for Canada. You might even get the chance to belt out Oh Canada.
See you in Ottawa March 27 to April 2!
Guy Laflamme
Chair, Host Committee, 2017 JUNO Awards
Executive Director, Ottawa 2017 Bureau